Are you looking for a one-of-a-kind and exciting travel experience that combines the best of two incredible destinations? Take a look at the direct flights between Cebu and Baguio! These two cities have a multitude of cultural, historical, and natural attractions, and you can now visit both in a single unforgettable trip. Book your direct flight from Cebu to Baguio today and begin planning your ultimate Philippine adventure.
PHILIPPINE AIRLINE'S cebu-baguio FLIGHTS SCHEDULES
*Note: These timetables were created based on the announcements made during the 2022 launch. The schedules may change in the future. To check availability for your selected travel period, go to the airlines' websites.
1. PR 2230 [CEBU TO BAGUIO]
Departing Mactan Cebu Airport at 8:50 AM
Arrival at Baguio Loakan Airport at 10:50 AM
MONDAY
WEDNESDAY
FRIDAY
SUNDAY
2. PR 2231 [BAGUIO TO CEBU]
Departing Baguio Loakan Airport at 11:10 AM
Arrival at Mactan Cebu Airport at 01:00 PM
MONDAY
WEDNESDAY
FRIDAY
SUNDAY
BAGUIO-CEBU AIRFARE
These sample reservations are from off-peak periods. A typical round-trip ticket costs roughly 10,000 Philippine Pesos.
Visit the Philippine Airlines website at www.philippineairlines.com to check rates for your travel dates.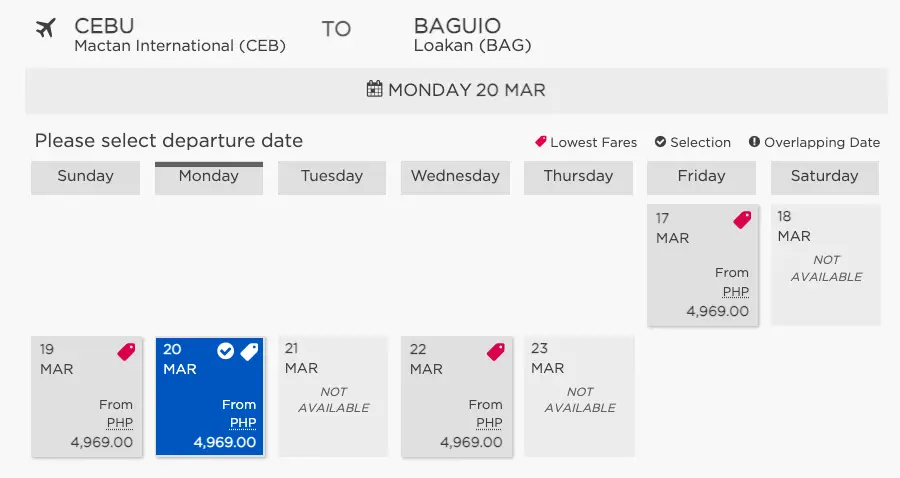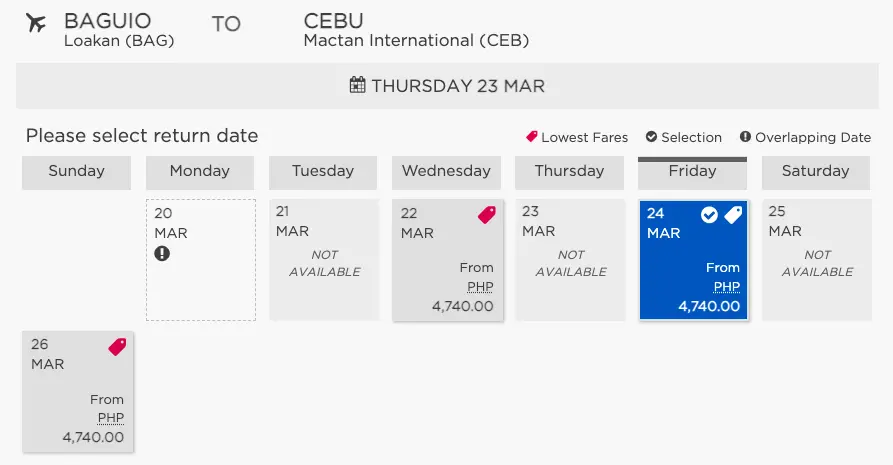 ABOUT LOAKAN AIRPORT'S REHABILITATION
Commercial flights in Loakan Aiport in Baguio City were discontinued in 2009 after safety concerns and a lack of adequate landing aids were brought up by airline firms that had previously operated the Manila-Baguio route.
The Regional Development Council (RDC) in the Cordillera requested that the Civil Aviation Authority of the Philippines (CAAP) provide the necessary funding support in the amount of approximately P420 million to modernize the Loakan airport and make it the gateway to the Cordillera.
The local government made an effort to reach an arrangement with the Department of Transportation (DOTr) that would allow the latter to take over airport management so that it could find private partners with the necessary operating expertise.
PAL Express has already made the acquisition of new planes that can fly into and out of the Loakan airport. The Loakan airport has a runway measuring around 1.6 kilometers long that can only accommodate small planes that need to taxi for a short distance before taking off.
Cebu Pacific also declared its intention to launch a service between Cebu and Baguio.
San Miguel Corporation (SMC) also signaled its intention to partner with the city government in the ultimate operation of the Loakan airport to help revive the city's tourism business.
The City Buildings and Architecture Office (CBAO) issued demolition notices for approximately 110 structures within the Loakan airport's designated 150-meter buffer zone in 2020 as part of the local government's efforts to clear the airport of obstructions that will prevent its opening for commercial operation.
The DOTr and CAAP invested P68 million in the airport terminal's renovation, which included upgrading the essential Instrument Landing System (ILS), which will let aircraft land and take off even in inclement weather.
Additionally, CAAP addressed the issue of the runway being at least 100 meters shorter than its current length of 1.683 meters.
Philippine Airlines will begin offering direct service between Baguio City and Cebu by December 2022.
The direct flights between Cebu and Baguio provide travelers with a unique and exciting opportunity to visit two amazing destinations in one unforgettable trip. These two incredible cities have it all, whether you're looking for adventure, relaxation, culture, or cuisine. Take advantage of this convenient and inexpensive travel option and get the best of both worlds. Book your Cebu-Baguio direct flight today and prepare for the adventure of a lifetime.
---
RELATED POSTS
Are you ready for an unforgettable adventure in the picturesque town of Sagada? Nestled in the Cordillera Mountains of the Philippines, Sagada offers a peaceful escape from the chaos of…

---
Hotels in Cebu City: Hotels in the center
Hotel
Stars
Discount
Price before and discount
Select dates
Cebu R Hotel Capitol

★★★

-16%

17 233

14 399
View hotel
Hamersons Hotel

★★★

-11%

57 936

51 757
View hotel
Harolds Evotel Cebu

★★★★

-28%

4 875

3 515
View hotel
Golden Prince Hotel & Suites

★★★

-7%

75 339

70 294
View hotel
Hotel Elizabeth Cebu

★★★★

-59%

8 503

3 515
View hotel
Red Planet Cebu

★★★

-15%

3 628

3 118
View hotel
Quest Hotel & Conference Center - Cebu

★★★

-26%

4 932

3 685
View hotel
Cebu Parklane International Hotel

★★★

-8%

100 452

92 346
View hotel
Seda Ayala Center Cebu

★★★★★

-7%

6 406

5 952
View hotel
Waterfront Cebu City Hotel & Casino

★★★★

-22%

4 535

3 515
View hotel
RELATED POSTS
Indulge yourself to a luxurious staycation. Choose from one of the 10 most highly ranked 5 star hotels in Cebu.

---

This is a comprehensive list of DOT Accredited resorts in CEBU. Our database is updated on a regular basis to keep up with the Department of Tourism's data. Use the filter…

---

Explore Cebu on a budget with our list of top affordable hostels and inns. Enjoy a comfortable stay without overspending. Perfect for budget-conscious travelers looking for great value accommodations.

---

Price: from ₱ 1,074 Check Prices Rating : 7.1 out of 59 reviews Address : Holy Family Rd. Cebu City About The content on this page is provided by mytourguide.ph partner…

---

Price: from ₱ 706 Check Prices Rating : 8.2 out of 299 reviews Address : 12 Torralba Street (Near Camp Lapu Lapu), Barangay Apas, Lahug, Cebu City About The content on…

---

Price: from ₱ 805 Check Prices Rating : 6.9 out of 244 reviews Address : 455 Osmena Boulevard, Cebu City About The content on this page is provided by mytourguide.ph partner…

---

Naps and Maps Hostel is conveniently located in the popular Cebu City area. The hotel offers a high standard of service and amenities to suit your needs.

---

Price: from ₱ 374 Check Prices Rating : 6.7 out of 15 reviews Address : Juana Osmeña Street, Cebu City About The content on this page is provided by mytourguide.ph partner…

---

Price: from ₱ 605 Check Prices Rating : 8.3 out of 259 reviews Address : Torralba Street, Corner Wilson Street (Near Camp Lapu-Lapu), Barangay Apas, Cebu City About The content on…

---

Price: from ₱ 604 Check Prices Rating: 8.1 out of 336 reviews Address: Torralba Street, Corner Wilson Street (Near Camp Lapu-Lapu), Barangay Apas, Cebu City About The content on this page…

---

Check Prices Rating : 7.6 out of 268 reviews Address : 3rd Floor Du Building Fuente Osmena Circleu), Barangay Apas, Cebu City About The content on this page is provided…

---

Check Prices Rating : 6.7 out of 15 reviews Address : 8 Sanson Road, Cebu City About The content on this page is provided by mytourguide.ph partner The 1-star 8th…

---

Check Prices Rating : 8.5 out of 102 reviews Address : J. Llorente St., Cebu City About The content on this page is provided by mytourguide.ph partner Travelbee Fuente Inn…

---

Price: from ₱ 532 Check Prices Rating : 8.5 out of 64 reviews Address : 8-10 Adelfa Street, Banilad, Cebu City About The content on this page is provided by mytourguide.ph…

---

Check Prices Rating : 8.5 out of 64 reviews Address : Echavez Street, Cebu City See also  Unlocking Paradise: A Guide on Getting to Boracay, Philippines

---