Introduction:
456 Hotel Baguio, Your Gateway to Tranquility and Breathtaking Views
Nestled in the picturesque hill station of Baguio City, 456 Hotel Baguio stands as a testament to luxury, comfort, and unparalleled views. For travelers seeking a peaceful escape amidst the beauty of the Cordillera mountains, this hotel is the perfect choice.
456 Hotel Baguio: Your Home Away From Home
As you enter the lobby, you'll immediately sense the warmth and hospitality that defines 456 Hotel Baguio. Whether you're traveling for leisure or business, the hotel's commitment to excellence ensures that your stay is nothing short of exceptional.
The Perfect Retreat:
Immerse Yourself in the Beauty of Baguio City
Baguio City, often referred to as the "Summer Capital of the Philippines," is renowned for its cool climate and breathtaking views. Nestled amidst lush pine forests and rolling hills, this charming city offers a unique escape from the hustle and bustle of urban life.
Breathtaking Views of Baguio City: Nature's Masterpiece
One of the standout features of 456 Hotel Baguio is its spectacular city views. Perched on a hill, the hotel offers panoramic vistas of Baguio City, where city lights twinkle like stars in the night sky. Wake up to the sight of mist-covered mountains and let the fresh mountain air rejuvenate your senses.
456 Hotel Baguio takes pride in providing guests with some of the most captivating cityscapes in the region. Every room is strategically designed to maximize these views, allowing you to immerse yourself in Baguio's natural beauty.
A Room with a View
Unwind and Recharge in Our Luxurious Rooms with Spectacular City Views
Each room at 456 Hotel Baguio is a sanctuary of comfort and style. Floor-to-ceiling windows frame the cityscape, allowing natural light to flood the room. Luxurious furnishings, plush bedding, and modern amenities ensure that your stay is both relaxing and convenient.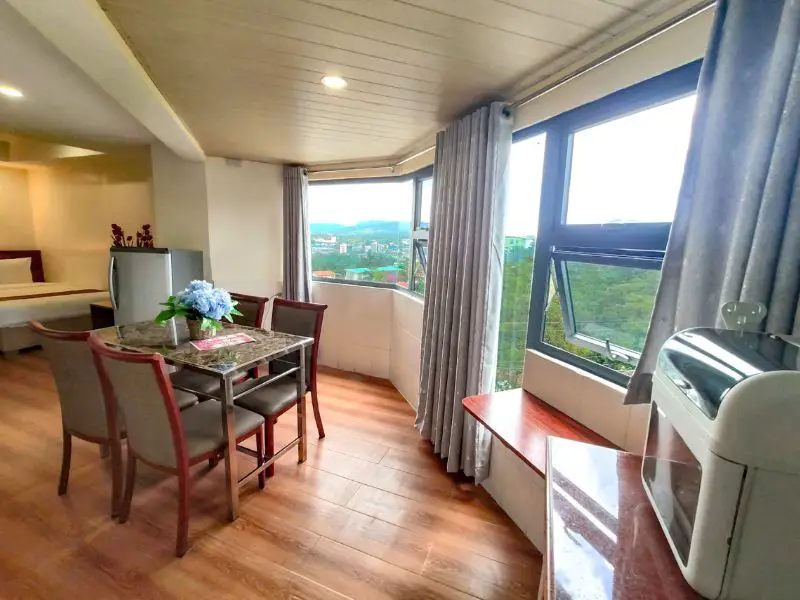 Rooms with City View: Where Every Window Tells a Story
Choose from a variety of room categories, including Deluxe, Premier, and Suites, all of which offer stunning city views. Whether you're traveling solo, as a couple, or with family, there's a room option to suit your needs.
Panoramic Windows in Rooms: As you draw back the curtains, you'll be greeted by a canvas of Baguio's urban landscape. It's a sight that transforms with the changing hues of sunrise and sunset, creating an ever-evolving masterpiece outside your window.
In-Room Amenities and Services: Enhancing Your Stay for Maximum Comfort and Convenience
456 Hotel Baguio goes the extra mile to make your stay comfortable and hassle-free. Enjoy a range of in-room amenities and services, including complimentary Wi-Fi, a minibar, a flat-screen TV, and 24-hour room service. Whether you need to catch up on work or simply relax and unwind, your room provides the perfect environment.
Hotel Amenities and Services: Designed for Your Comfort
Beyond the rooms, the hotel offers a range of amenities and services, including a fitness center, a business center, and event facilities. If you're traveling for work, rest assured that you can stay connected and productive.
Complimentary Services for Guests
The hotel takes pride in offering complimentary services like Wi-Fi and shuttle transfers to key attractions in Baguio. It's all part of the commitment to making your stay enjoyable and stress-free.
Explore Beyond the Hotel
Discover Baguio's Attractions and Delights Just a Stone's Throw Away
While 456 Hotel Baguio offers an oasis of comfort, Baguio City beckons with its own set of attractions and delights. Step out of the hotel, and you'll find yourself in a city with a rich cultural heritage, vibrant markets, and delicious local cuisine.
Tourist Attractions Near 456 Hotel Baguio: Your Journey of Discovery
Baguio is home to a range of attractions, including Burnham Park, Baguio Botanical Garden, and the Baguio Cathedral. Each site offers a unique perspective on the city's culture and history.
Must-Visit Places in Baguio City: Explore the bustling Baguio Public Market, where you can shop for fresh produce, handicrafts, and souvenirs. Don't forget to visit Mines View Park, where you can take in breathtaking vistas and try on traditional Igorot attire for photos.
Savoring Culinary Delights
Indulge Your Palate at Our On-Site Restaurant with Stunning City Views
A culinary journey is an essential part of any travel experience. At 456 Hotel Baguio, you can indulge your palate at the on-site restaurant while enjoying more of those spectacular city views.
Dining Options at 456 Hotel Baguio: A Gastronomic Adventure
The hotel's restaurant offers a delightful menu of local delicacies and international favorites. Savor Baguio's fresh produce and signature dishes while dining against the backdrop of the city's twinkling lights.
Restaurant with City Views: Dining at the hotel is not just a meal; it's an experience. Whether it's breakfast, lunch, or dinner, you'll be treated to a feast for the senses.
Conclusion:
Book Your Stay at 456 Hotel Baguio for a Relaxing Getaway with Unforgettable City Views
456 Hotel Baguio is more than just a place to stay; it's a destination. Whether you're seeking a romantic getaway, a family vacation, or a productive business trip, this hotel offers the perfect setting.
Booking a Room at 456 Hotel Baguio
Don't miss the opportunity to experience Baguio City from new heights. Book your stay and prepare for an unforgettable journey.
Planning a Trip to Baguio City
If you're ready to explore Baguio's charms, start planning your trip today. Check room availability, browse dining options, and discover the activities that await you.
Your Baguio adventure begins here at 456 Hotel Baguio. Immerse yourself in the tranquility, luxury, and breathtaking views that define this remarkable hotel. Whether you're gazing at the city lights from your room or savoring local cuisine at the restaurant, you're sure to create lasting memories in the heart of Baguio City.
Book your stay and embark on a journey that celebrates both relaxation and exploration. Baguio City and 456 Hotel Baguio await your arrival.
LOCATION
456 Hotel, 59 Legarda Road, Baguio City
CONTACTS
AMENITIES
WI-FI
Affordable breakfast
 24-hour secured free parking
24-hour front desk
---
RELATED POSTS
Are you ready for an unforgettable adventure in the picturesque town of Sagada? Nestled in the Cordillera Mountains of the Philippines, Sagada offers a peaceful escape from the chaos of…

---