Introduction: The Philippines' Vibrant Festival Culture
The Philippines is a country known for its beautiful beaches, mouth-watering cuisine, and welcoming people. But did you know that the Philippines also boasts a myriad of colorful and vibrant festivals that are celebrated all year round?
These festivals showcase the country's rich culture, history, and traditions. From religious processions to street dancing, these events offer a unique insight into the Filipino way of life.
One of the most enjoyable aspects of Philippine festivals is the sense of community they create. People from all walks of life come together to celebrate their shared heritage and values.
These events provide an opportunity for Filipinos to connect with their roots and for visitors to experience first-hand the warmth and hospitality of Filipino culture. Filipino festivals are also known for their lively energy and upbeat vibe.
You'll be swept up in a whirlwind of music, dancing, colorful costumes, delicious food, and good old-fashioned fun. No matter where you go in the Philippines, there's always something exciting happening.
So whether you're a seasoned traveler or a first-time visitor to the Philippines, make sure you add some festival fun to your itinerary. Here are four must-see festivals in different parts of the country that will give you an unforgettable taste of Philippine culture.
1. Sinulog Festival
From Humble Beginnings to Vibrant Festivities
The Sinulog Festival is a religious and cultural celebration held every third Sunday of January in Cebu City, Philippines. Its origins can be traced back to the time when the Portuguese explorer Ferdinand Magellan arrived in Cebu in 1521 and gifted the image of the Sto. Niño (Child Jesus) to Queen Juana, wife of Rajah Humabon. The festival's name is derived from the Cebuano word "sulog," which means "like water current," alluding to the forward-backward steps of the Sinulog dance.
Today, Sinulog has grown into one of the biggest festivals in the country, attracting millions of tourists both local and foreign every year. The 9-day celebration is comprised of various events such as street parties, live music performances, beauty pageants, food fairs, and fireworks displays.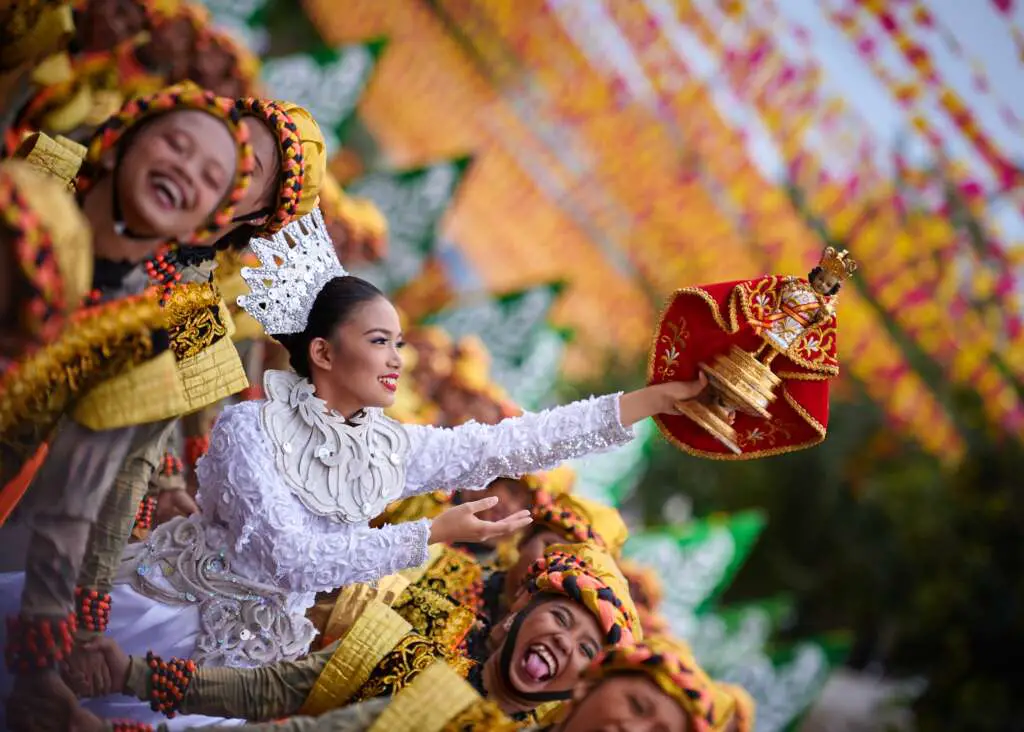 The Grand Parade: A Feast for Your Senses
Arguably one of the most-awaited events during Sinulog is its grand parade held on its last day. Dancers dressed in colorful costumes move gracefully along major streets while performing intricate steps to beat drums and gongs.
Some dancers carry Sto. Niño images adorned with flowers or other decorations.
To get a prime vantage point for watching this spectacle unfold, you can try to secure a spot near or along Osmeña Boulevard or at any point along General Maxilom Avenue up until Fuente Osmeña Circle where it ends.
If you're looking for a more exclusive experience during this festive occasion, hotels like Radisson Blu Cebu offers packages that include breakfast buffets before witnessing colorful parades right outside their doorstep!
Other Events Worth Checking Out
Aside from watching the grand parade, there are plenty of other events that you can attend during the festival. One of them is the Fluvial Parade, which happens two days prior to the grand parade. In this event, devotees and dancers board boats and navigate through waterways while singing and dancing to the Sinulog beat.
Another event worth watching is the Sinulog Fireworks Competition held at SM City Cebu on January 18th. This competition pits various fireworks companies in a pyrotechnic duel, which culminates with a grand display of dazzling colors and patterns.
The Bottom Line
The Sinulog Festival is an amazing experience that should not be missed! With its rich history, vibrant culture, and lively festivities, it's no wonder why it's considered one of the country's must-visit festivals.
Whether you're a first-timer or a seasoned Sinulog-goer, this celebration will surely leave an indelible mark on your heart and mind. So come join in on the fun and let yourself be swept away by Cebu's festive spirit!
2. Ati-Atihan Festival
The Meaning Behind the Festival's Name
One of the most popular festivals in the Philippines is the Ati-atihan Festival. The word "ati-atihan" means "to be like Atis" or "make believe Atis." The festival originally celebrated the arrival of 10 Malay datus (chieftains) and their families who fled from Borneo to escape persecution by Sultan Makatunaw. They landed on Panay Island, where they were welcomed by the locals led by Datu Marikudo, who gave them a settlement called Sinugbuhan.
The original inhabitants of Panay Island were known as Atis, a dark-skinned Negrito ethnic group. The festival thus evolved to honor and celebrate their culture and traditions.
Traditional Costumes and Dances Performed During the Event
The highlight of Ati-atihan is the street dancing competition, where participants dress up in colorful costumes adorned with feathers, beads, and shells. The dancers paint their faces black using charcoal or soot to resemble the original inhabitants of Panay Island. The dance steps are simple but energetic: participants move to drumbeats while chanting "Hala Bira!" or "Viva kay Santo Niño!" Santo Niño (Holy Child) is also venerated during this festival because it coincides with the Feast of Sto.
Niño de Cebu. Aside from street dancing, there are also parades showcasing religious images such as Jesus Christ and Virgin Mary carried on decorated carriages or floats.
Must-Do Activities During Ati-atihan
Apart from watching street dancing performances and parades, there are other activities that visitors can do during Ati-atihan:
1. Attend religious ceremonies – Masses are held throughout the weeklong celebration in honor of Santo Niño.
2. Taste local delicacies – Food fairs are set up where visitors can try traditional dishes such as chicken inasal and pancit molo.
3. Shop for souvenirs – Handicrafts, accessories, and shirts with Ati-atihan designs are sold by vendors in the streets.
4. Join the party! After dark, the streets come alive with parties and concerts featuring local bands and DJs.
5. Visit nearby attractions – The island of Panay has many scenic spots worth visiting, such as the Islas de Gigantes, Nelly's Garden, and Garin Farm Pilgrimage Resort.
Ati-atihan Festival is an exciting event that showcases the Philippines' rich culture and history. It is a must-see for those who want to experience firsthand the vibrant spirit of Filipino fiestas.
3. Dinagyang Festival
The Dinagyang Festival is another popular festival in the Philippines that is celebrated annually on the fourth Sunday of January in Iloilo City, located in the Western Visayas region. This festival is distinct from the Sinulog and Ati-atihan festivals, although they share similarities. The term "Dinagyang" means "merrymaking," which accurately describes this colorful and vibrant celebration.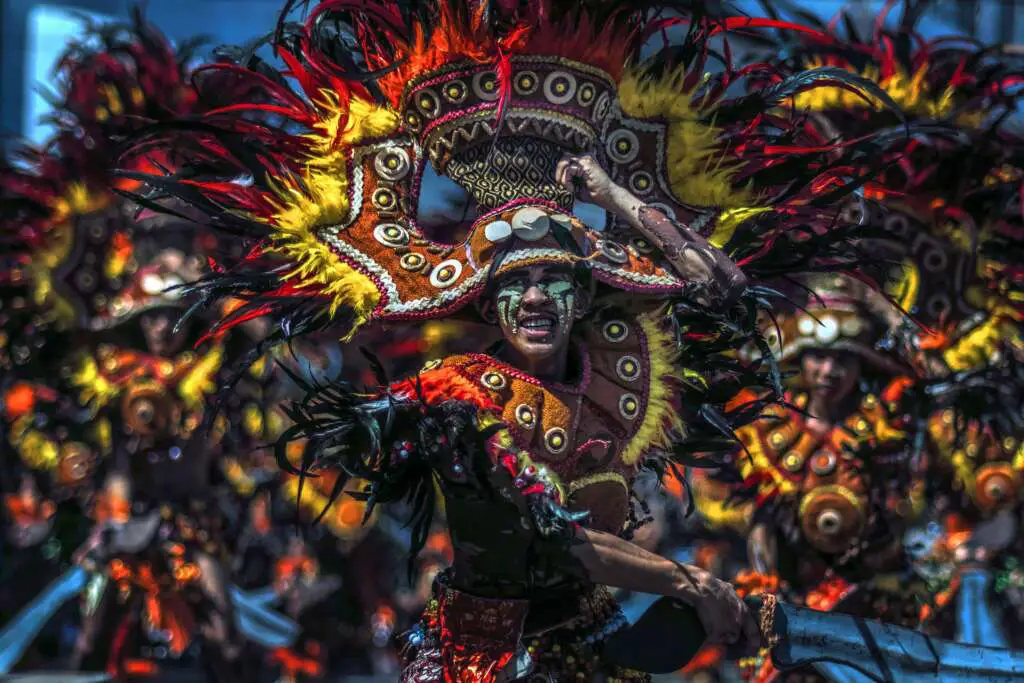 Similarities and Differences between Sinulog and Ati-Atihan
Like Sinulog and Ati-atihan, Dinagyang has deep religious roots. It celebrates the Santo Niño or the Holy Infant Jesus, just like many other festivals across the country.
However, unlike these two festivals, Dinagyang combines elements of both religious solemnity and spontaneous revelry. Unlike Sinulog and Ati-atihan which last for a day or two, Dinagyang festivities span over four days filled with exciting events such as street dancing competitions, food fairs highlighting local cuisine, fashion shows featuring traditional costumes, live music performances showcasing local talents, beauty pageants crowning Miss Dinagyang winners from various barangays (neighborhoods), fluvial parades on Iloilo River to honor Señor Santo Niño de Cebu (Holy Child Jesus of Cebu), masses held at various churches around town.
Highlights of Dinagyang
The highlight of Dinagyang is its street dance competition held on Sunday at designated routes all over Iloilo City where different tribes compete to showcase their vibrant costumes with colorful feathers adorned by intricate beadwork designs while dancing to drum beats accompanied by indigenous instruments such as agongs(gong-like instrument)and tambolins(kettledrums). Another highlight of Dinagyang is its food fair, where visitors can sample local delicacies such as batchoy(noodle soup), pancit molo(minced pork wonton soup), and lechon (roast pig).
Apart from street dancing and food fairs, Dinagyang also has religious events. Early morning masses are held at the San Jose Parish Church to celebrate the Feast of Señor Santo Niño de Cebu, culminating in a grand procession of the Santo Niño statue around Iloilo City streets.
Insider Tips for Enjoying Dinagyang to Its Fullest
To fully enjoy Dinagyang, visitors should invest in comfortable shoes since most events require walking through crowds and streets. They should also bring sunscreen and hats since it's usually sunny during this time of year.
Visitors should also dress appropriately; light clothing is recommended since temperatures can be humid. For foodies, market tours are available to sample local cuisines like Pinoy breakfasts such as tapsilog (beef tapa with garlic rice and egg) or seafood dishes like grilled squid served with soy sauce and calamansi (local citrus fruit).
Don't forget your camera or smartphone to capture moments you want to remember! From the colorful costumes to the lively street performances filled with energetic dancers, there's always something new waiting around each corner during Dinagyang Festival.
4. Panagbenga (Baguio Flower Festival)
Baguio City's Annual Flower Festival
If you're a flower enthusiast, then you definitely wouldn't want to miss the annual Panagbenga Festival in Baguio City. Dubbed the "flower festival," this event has been attracting both local and foreign tourists since its inception in 1995. The word "Panagbenga" is a Kankanaey term that means "season of blooming".
The festival features a month-long celebration where the streets of Baguio City are lined with beautiful flowers, from roses to chrysanthemums and even sunflowers. Aside from showcasing different types of flora, there are also various cultural events that take place during the festival such as street dancing, music performances and food fairs.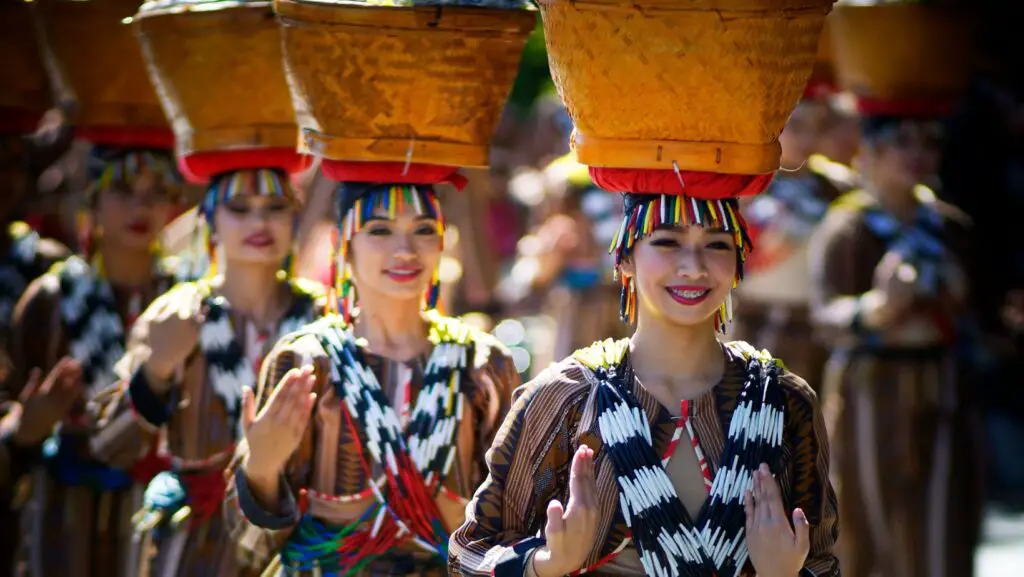 Highlights such as Floral Floats, Street Dancing, and Fireworks Display
One of the main attractions of Panagbenga is its grand street parade where participants wear colorful costumes adorned with flowers. The highlight of the parade is undeniably the floral floats that are decorated with intricate designs made entirely out of flowers.
In addition to this, visitors can also take part in various activities such as flower arranging contests and garden shows. If you're into photography, make sure to bring your camera because there will be plenty of photo opportunities during this time.
To cap off each day's festivities, there will be a fireworks display that illuminates the night sky over Baguio City. It's definitely a sight worth seeing!
Best Time to Visit Baguio for Panagbenga
The best time to visit Baguio for Panagbenga is during its peak season which typically falls on the last week of February up until early March. During this period, most hotels within the city are fully booked so make sure to book your accommodations in advance.
The climate during this time is also at its best, with the temperature ranging from 12 to 25 degrees Celsius. It's perfect for those who want to escape the sweltering heat of Manila and experience a cooler climate.
If you're looking for something different this festival season, head over to Baguio City and witness the beauty of the Panagbenga Festival for yourself. With its colorful floats, elaborate costumes, and stunning floral displays, it's definitely an event worth traveling for!
5. Kadayawan sa Davao
Celebration of Diversity and Abundance in Davao City
If you want to experience a celebration that highlights the bountiful harvests and diverse cultures of the southern Philippines, then Kadayawan sa Davao is definitely a festival you should attend. Held every third week of August in Davao City, this event is a colorful and vibrant showcase of the region's rich cultural heritage and agricultural bounty.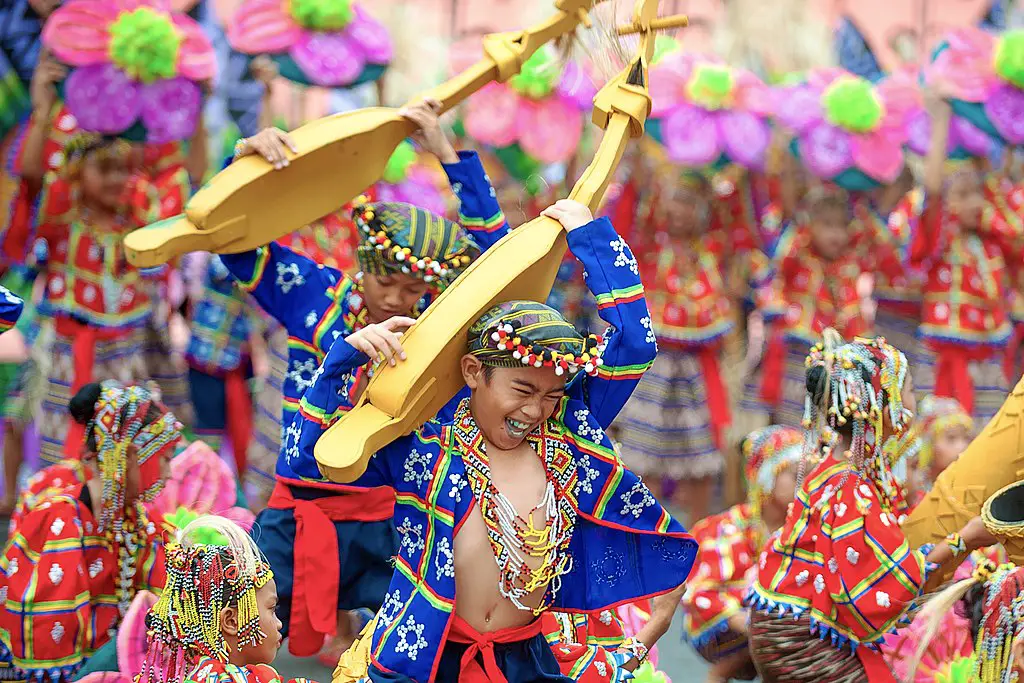 Indigenous Tribal Gatherings
One of the unique events during Kadayawan is the "Indak-Indak Sa Kadalanan" or street dancing parade, where various indigenous tribes from all over Mindanao come together to perform their traditional dances and music. You will see performers adorned in intricate costumes made from indigenous materials such as abaca, bamboo, and feathers.
Aside from the street dancing parade, there are also other activities during Kadayawan that showcase the different tribal cultures in Mindanao. These include tribal games, music competitions using traditional instruments like kulintang (a set of gongs), and workshops on traditional crafts like weaving and beadwork.
Fruit Displays and Floral Arrangement Contests
Kadayawan is also known for its "Pamulak sa Kadayawan," which is a grand parade featuring spectacular floral floats showcasing fruits that grow abundantly in Mindanao such as durian, pomelo, mangoes, and bananas – just to name a few. After the parade comes an exhibit where these fruit displays are showcased for everyone to see. Another activity during Kadayawan that highlights Mindanao's agricultural abundance is "Hulagway sa Kadayawan," which means "Images of Kadayawan." It's a floral arrangement contest featuring flowers native to Mindanao such as waling-waling orchids, birds of paradise and other exotic blooms.
Practical Information for Attending Kadayawan sa Davao
If you are planning to attend Kadayawan, be prepared for a huge crowd as it attracts thousands of visitors from all over the world. Book your accommodations and flights in advance. The festival lasts for one week so make sure you have enough time to explore the city.
Moreover, Davao City also has a lot of attractions that you can visit during your stay such as the Philippine Eagle Center, Mount Apo, and Eden Nature Park to name a few. Don't forget to try out some of Mindanao's delicious food such as grilled tuna belly or kinilaw na isda (raw fish salad).
Conclusion
The Philippines may be a small country but it is rich in culture and traditions that are celebrated throughout the year. Attending festivals like Sinulog, Ati-Atihan, Dinagyang, Panagbenga, and Kadayawan is not just about having fun – it's about immersing oneself in Filipino culture and traditions that have been passed down through generations. These festivals provide opportunities to experience Philippine history and culture first-hand while mingling with locals who are happy to share their stories with foreigners.
Just remember that each festival has its own unique character so make sure you choose one that suits your interests best. Hopefully, this article has given you a glimpse into the vibrant world of Philippine festivals and inspires you to attend at least one of them in your lifetime!
---
Related Posts
The Philippines celebrates a variety of holidays, including the Filipino Christmas, which is one of the most important and is marked by lavish celebrations. There is also the tradition of giving gifts to relatives and friends. There are also a number of Philippine festivals in December, and the following are some of the more significant.

---