Make a spectacular entrance at the 5-star luxury resort hotel Sofitel Philippine Plaza Manila, a cultural haven by the dazzling bay.
About SOFITEL PHILIPPINE PLAZA MANILA
The Sofitel Philippine Plaza is a spectacular structure located in a broad tropical setting. With its own blend of French joie de vivre and Filipino hospitality, which is evident in its rituals surrounding food and wine as well as its array of entertainment activities, the hotel continues to captivate both domestic and foreign guests. It is well known for its breathtaking sunsets over Manila Bay.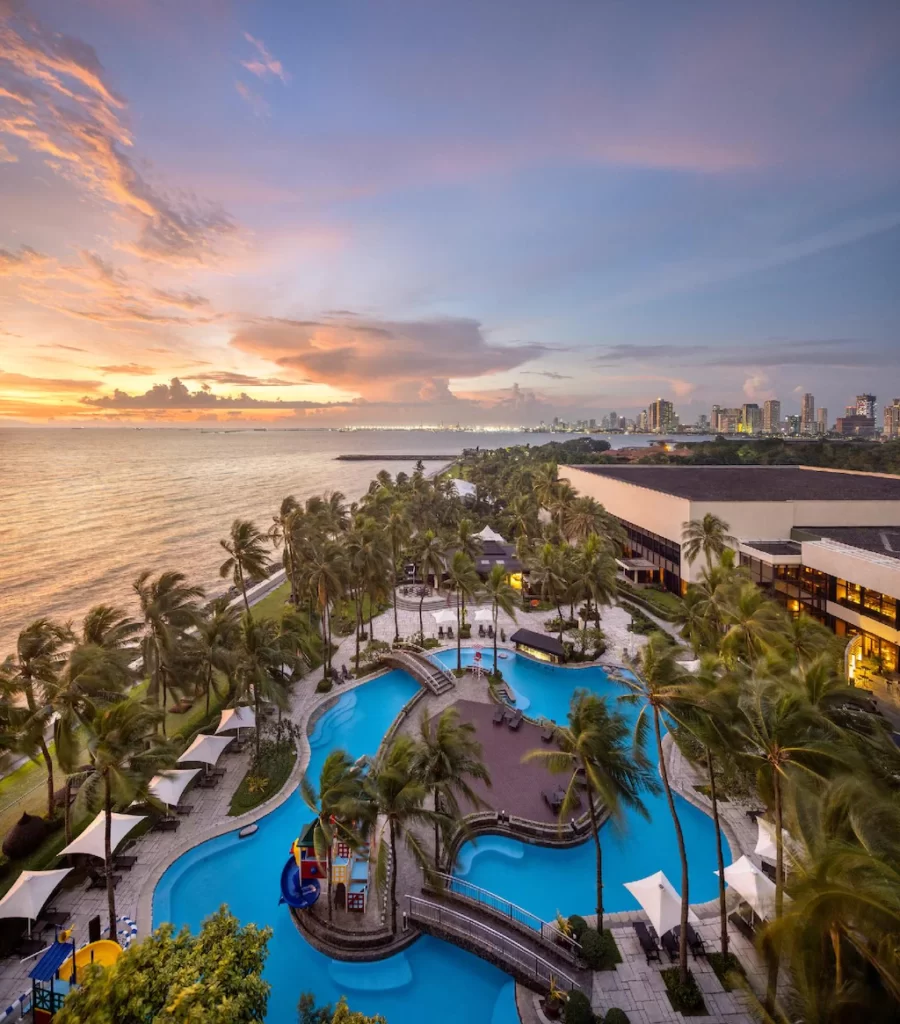 This structural marvel, created by national artists Leandro Locsin and Ildefonso P. Santos, beckons you in with its geometric elegant design. Take a magnificent excursion to Manila's tropical splendor.
In order to provide a distinctive, elegant hotel experience, each Sofitel draws inspiration from the local culture and heritage while also championing innovation and the French art de Vivre. 
The iconic Sofitel Philippine Plaza is nestled in a lush tropical setting. The hotel, which is noted for its spectacular Manila Bay sunsets, continues to attract both local and foreign tourists with its signature mix of Filipino warmth and French joie de vivre, which is reflected in its cuisine and wine rituals, and comprehensive entertainment programs.
ROOMS
Each of the 609 guest rooms, including the opulent Imperial Residence, 2 Opera Suites, 32 Sofitel Suites, and 12 Junior Family Suites, is magnificently decorated and furnished with the finest comforts and amenities for a restorative city getaway. Enjoy lavish comfort in spacious rooms with French elegance and traditional Filipino decor. Enjoy a private balcony with a stunning cityscape view of Manila Bay while unwinding in the king-sized MyBed that is Sofitel's hallmark.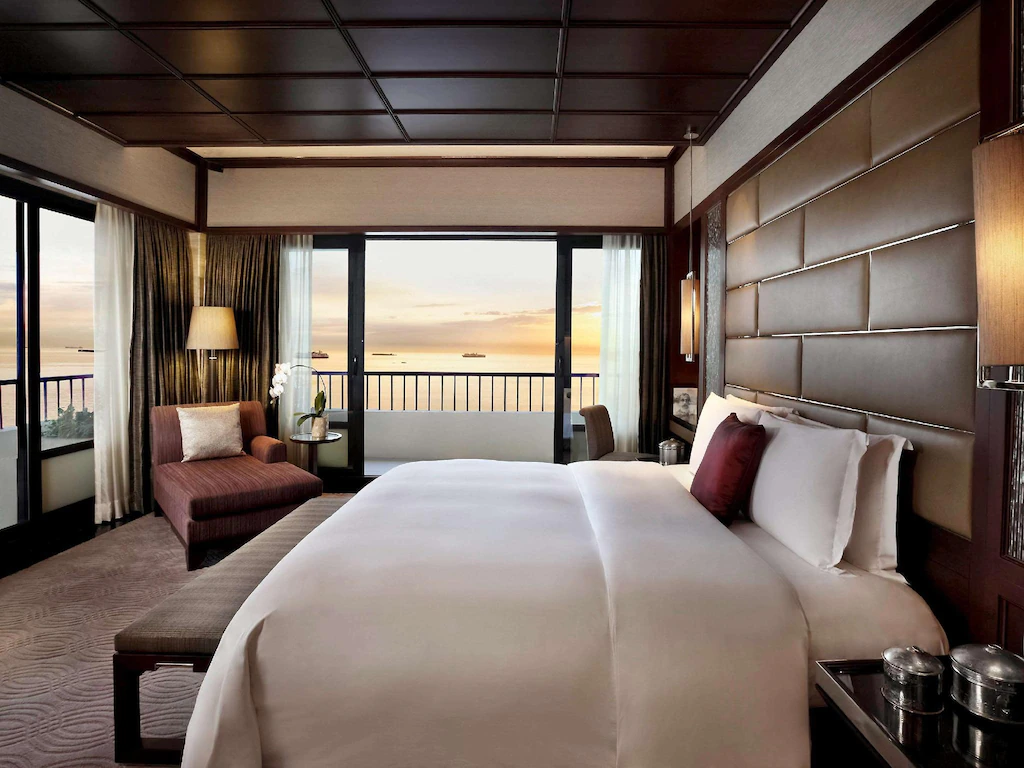 DINING
The restaurants and bars at the Sofitel Philippine Plaza Manila offer delicious meals and a wide variety of cuisines to ensure that every guest has a wonderful dining experience.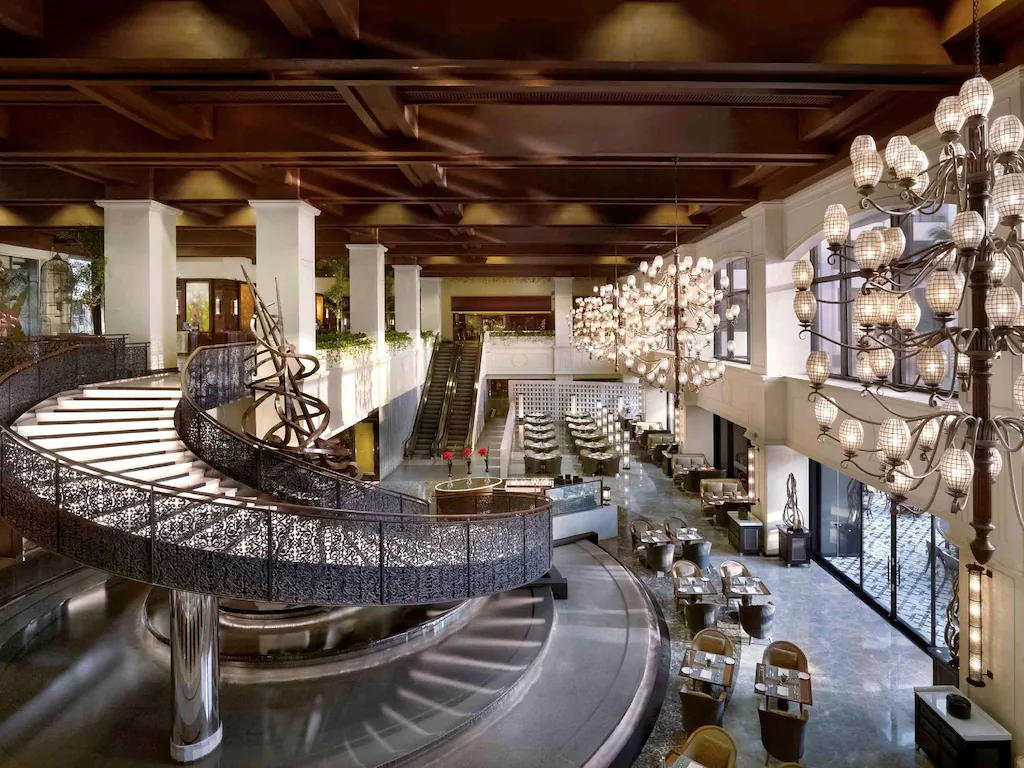 Spiral Buffet's dynamic eating experience redefines the concept of culinary exploration. There are 21 dining ateliers at Spiral, a flagship Sofitel. In Spiral, the expertly produced, top-secret delicacies are created right before your eyes in an atelier, a specific studio used by artists. The multi-awarded restaurant offers an incredible variety of food that is professionally prepared by experts who pay close attention to every meticulous detail.
WELLNESS
LESSPA
Le Spa is a wellness sanctuary that offers top-notch wellness routines in a distinctive spa experience. Here, polished French elegance and the warm Filipino touch revitalize the mind, body, and spirit. Le Spa is home to novelties like the Filipino ancient art of healing known as the Hilot. These treatments span from traditional eastern to current western approaches.
VIETURA BY THE ZEN INSTITUTE
The Zen Institute's Vietura is Asia's first institution of its kind dedicated to aesthetics. It offers a wide range of holistic, individualized beauty and wellness programs that combine non-invasive aesthetic treatments, integrative medicine, and lifestyle counseling that is specifically suited to the needs of the individual.
SO FIT
So Fit offers cutting-edge, comprehensive health programs along with the best cardio equipment from Life Fitness. SoFIT offers membership plans to suit each client's particular needs as a haven for health, well-being, and desired fitness. Every day, SoFIT's fitness professionals are available to help clients achieve their peak physical performance.
NAIL ARTISAN
A serene setting where you can unwind while having your feet and nails taken care of. For a highly calming and revitalizing experience, Nail Artisan provides a range of distinctive nail procedures and foot care products.
LOCATION
Address
CCP Complex, Roxas Blvd, Pasay, 1300 Metro Manila, Philippines
---
Hotels in Manila: Hotels in the center
Hotel
Stars
Discount
Price before and discount
Select dates
Manila Grand Opera Hotel

★★★★

-7%

4 369

4 086
View hotel
Winford Manila Resort and Casino

★★★★★

-23%

13 846

10 725
View hotel
The Manila Hotel

★★★★★

-23%

5 902

4 540
View hotel
Go Hotels Otis - Manila - Multiple-Use Hotel

★★★

-19%

6 185

5 050
View hotel
Bayview Park Hotel Manila

★★★

-6%

21 563

20 372
View hotel
Manila Lotus Hotel - Multiple Use Hotel

★★★

-8%

34 161

31 437
View hotel
Eurotel Pedro Gil

★★★

-19%

13 278

10 838
View hotel
Leez Inn

★★★

-32%

11 463

7 831
View hotel
New Coast Hotel Manila (formerly New World Manila Bay Hotel)

★★★★★

-19%

5 675

4 540
View hotel
Sheraton Manila Bay

★★★★★

-19%

77 685

63 328
View hotel
Related Posts
Intramuros is the ancient heart of Manila, a walled city that showcases the rich history and Spanish architecture of Old Manila. Built by the Spaniards as their political and military…

---