Escape to the pinnacle of luxury at ACEA Subic Bay, where sophistication and comfort converge. The resort offers expansive rooms and exceptional amenities, meticulously crafted to provide a haven from the daily chaos. Whether you're in search of a peaceful retreat or an action-packed vacation, our world-class facilities cater to all your needs. Immerse yourself in an elevated experience of refined elegance and discover the perfect fusion of opulence and serenity at ACEA Subic Bay.
About SUBIC BAY
ACEA Subic Bay is set in a beautiful natural setting with lush greenery and a refreshing ocean breeze, with breathtaking views of Mt. Cinco Picos. The resort is dedicated to providing you with an unforgettable tropical experience, complete with a variety of exciting activities and pursuits. Enjoy the palm-lined private property's luxurious and exclusive ambiance, where you can immerse yourself in an unparalleled sense of leisure with rejuvenating offerings. The resort has everything you need to create lasting memories, from endless opportunities for fun and play to indulgent water activities, outdoor dining, remarkable accommodations, and unforgettable celebrations.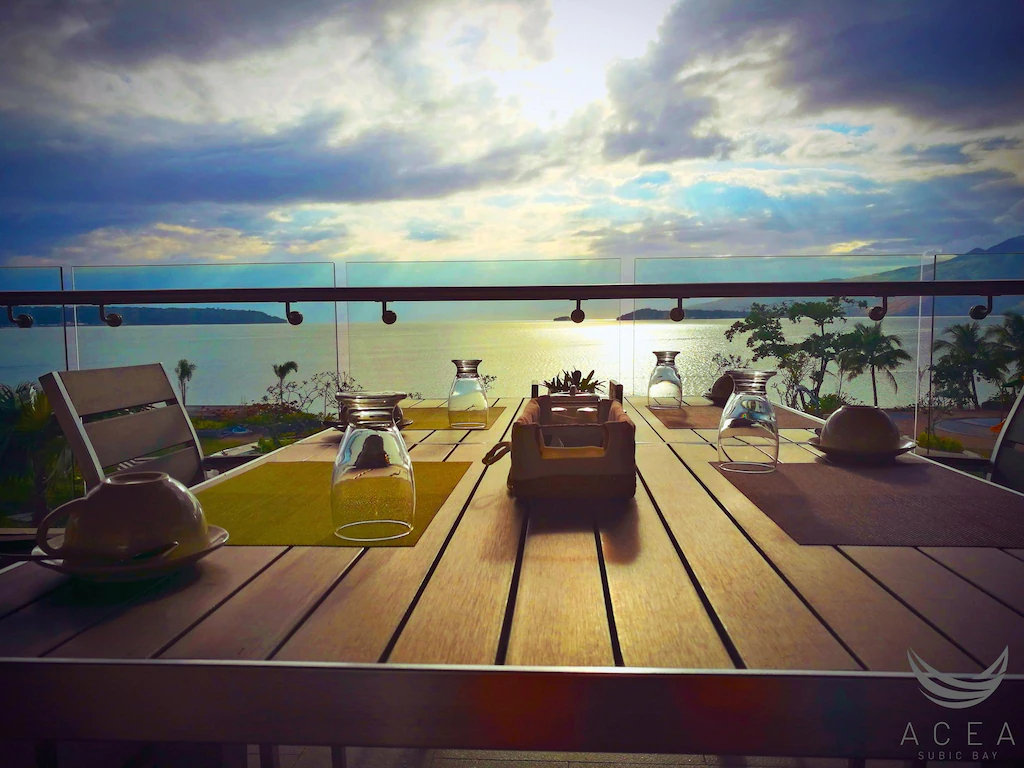 What's so great about ACEA Subic Bay?
The ACEA Subic Bay location is convenient to Subic attractions, stores, and restaurants. The amenities are excellent, with big rooms, and a clean infinity pool. The staff is all very approachable and friendly. This hotel is ideal for a vacation with family or friends. 
Location
Address of ACEA Subic Bay
San Bernardino Road, Subic Bay Freeport Zone, Subic (Zambales), Philippines, 2222
Whether you're looking for a relaxing getaway or an exciting adventure, ACEA Subic Bay is the perfect destination. Our resort offers unparalleled convenience, excellent amenities, and friendly service, making it the ideal choice for families and friends. With easy access to the best attractions, stores, and restaurants in Subic, you'll have everything you need for a memorable vacation. Don't wait – book your stay at ACEA Subic Bay today and experience the ultimate in comfort, leisure, and convenience.
---
Uncover the charm of the Philippines with these irresistible offers
This list offers irresistible great deals that allow budget-conscious travelers to experience the beauty of the Philippines without breaking the bank. Discover the country's breathtaking attractions and vibrant culture and prepare to embark on an unforgettable trip to the Philippines with these low-cost options.
Discover mouthwatering deals! Enjoy Foodpanda Philippines' September 2023 discounts and promos. Savor the savings today!

---
Explore the Best of Philippines: Must-See Tourist Destinations
The Philippines is a stunning cluster of islands brimming with breathtaking natural wonders and cultural treasures. With over 7,000 islands, the country offers a diverse range of destinations to explore, from bustling urban centers to tranquil shorelines, and historical landmarks to breathtaking terrains. The Philippines caters to every traveler's needs, whether it's seeking an adventurous escapade, unwinding on a serene beach, or delving into cultural experiences. This guide presents a curated list of must-see tourist destinations in the Philippines, each of which offers a distinct and charming experience. So, prepare to embark on an adventure to discover the best of the Philippines.
Honda Bay Palawan in the Philippines is a stunning destination that offers a plethora of natural wonders and exciting experiences. This coastal paradise is known for its crystal-clear turquoise waters,…

---

Intramuros is the ancient heart of Manila, a walled city that showcases the rich history and Spanish architecture of Old Manila. Built by the Spaniards as their political and military…

---

Discover the stunning Bolinao Falls in Pangasinan – a natural paradise that promises a breathtaking experience. Immerse yourself in the serene ambiance and witness the beauty of nature at its finest.

---

Discover the captivating natural wonders of the Philippines, from underground rivers to majestic hills. Explore beauty that astounds!

---

Discover the best places to visit in the Philippines this July, from vibrant Manila to stunning Boracay and off-the-beaten-path gems. Unforgettable adventures await!

---

Discover the top 10 must-visit destinations in the Philippines, from Boracay's white sand beaches to Palawan's stunning landscapes.

---

Discover the best of Bohol Island with a full-day tour covering must-see attractions like the Chocolate Hills, Tarsier Sanctuary, and Loboc River Cruise.

---

Discover the ticket prices and tips to save money when visiting Pinto Art Museum. Explore all galleries and exhibits with this helpful guide.

---

Discover the best places to visit in the Philippines this June! From white sand beaches to scenic mountains, festivals and delicious food.

---

Discover the beauty of El Nido through island hopping and off-the-beaten-path tours. Find insider tips for choosing the right tour in this detailed guide.

---

Located in the southern region of the Philippines, Mount Matutum boasts of its scenic beauty, captivating landscapes, and diverse flora and fauna. With its majestic peaks, verdant forests, and cascading waterfalls, this destination is perfect for nature lovers and adventure enthusiasts. Get ready to explore the unspoiled wilderness, trek through challenging trails, and immerse yourself…

---

The serene and beautiful Lake Sebu is situated in the heart of South Cotabato. The lake, which is a favorite spot for both locals and tourists, is home to a variety of fauna.

---

Discover the beauty of Lake Holon – a hidden gem located in the Philippines. Learn about its history, culture, and conservation efforts.

---

Discover the beauty and significance of Osmeña Peak in Cebu, Philippines. Learn about its history, trails, flora/fauna, and local community. Plan your visit now!

---

Discover the beauty and charm of Dasol Pangasinan! Explore its stunning beaches, rich culture, cuisine, and more in this detailed travel guide.

---