Tagaytay, a charming tourist destination in the Philippines, has been capturing the hearts of travelers from all over the world. It boasts breathtaking scenery, cool weather, and a serene environment that's perfect for relaxation and leisure. As more and more tourists flock to Tagaytay, the city's coffee culture has also been thriving. Coffee shops have been sprouting in various parts of the city, offering visitors a diverse range of coffee flavors and experiences.
For coffee enthusiasts who prefer the familiar taste of Starbucks, there's no need to worry. This article provides a complete list of all Starbucks coffee outlets in Tagaytay. Whether you're looking for a quick caffeine fix or a cozy spot to enjoy a warm cup of coffee, Starbucks in Tagaytay has got you covered. So sit back, relax, and savor the unique coffee experience that Tagaytay has to offer.
Tagaytay's Love for Coffee, and Starbucks
Coffee lovers from across the world are familiar with Starbucks. The coffeehouse chain has grown to become a global brand known for its quality coffee, delicious pastries, and cozy ambiance. However, in the Philippines—particularly in Tagaytay—the brand is more than just a place to grab a hot cup of joe.
It's an experience that many look forward to. In Tagaytay City, there are currently three Starbucks branches located in strategic areas around the city.
Each branch offers visitors a unique experience with exceptional service and a relaxing ambiance. Whether you're looking for a quiet place to work or catch up with friends over coffee, each branch has something different to offer.
The Global Coffeehouse Chain
Starbucks was founded in Seattle in 1971 and has since become one of the world's most recognized coffeehouse chains. With over 30,000 stores worldwide (as of 2021), the company continues to expand its reach by opening new branches every year.
The secret behind Starbucks' success is not only its high-quality coffee but also its welcoming atmosphere. The company's mission statement is "to inspire and nurture the human spirit – one person, one cup, and one neighborhood at a time." According to this philosophy, every Starbucks store should provide customers with an experience that goes beyond serving them drinks or food; it should connect them with their local communities.
FIND STARBUCKS COFFEE NEAR YOU
Click the button to discover a Starbucks coffee near you and treat yourself to a moment of pure coffee bliss.
Find your nearest Starbucks location and experience the rich flavors of their expertly crafted beverages, made from the finest coffee beans sourced from around the world. Satisfy your cravings and elevate your coffee experience with Starbucks' wide range of handcrafted beverages, delicious snacks, and cozy ambiance.
STARBUCKS COFFEE BRANCHES IN TAGAYTAY
Starbucks locations in Tagaytay are ideal for starting the day with a delicious cup of coffee. These establishments offer a variety of beverages and pastries to brighten up any morning. Learn more about the Tagaytay Starbucks locations listed below.
1. Aguinaldo Highway Tagaytay
Starbucks Aguinaldo Highway Tagaytay has been updated. Take a look around the store! It is the first Starbucks location to use the new logo.
This branch has a lovely, spacious design. The branch is ideal for a cup of coffee with friends or working on your laptop, with comfortable lounges and outdoor tables. The outdoor area is finished with a lot of plants and greenery, making you feel at home.
Address:
Lot 2-4, Aguinaldo Highway, Brgy. Silang, Crossing West, Tagaytay City
Contact: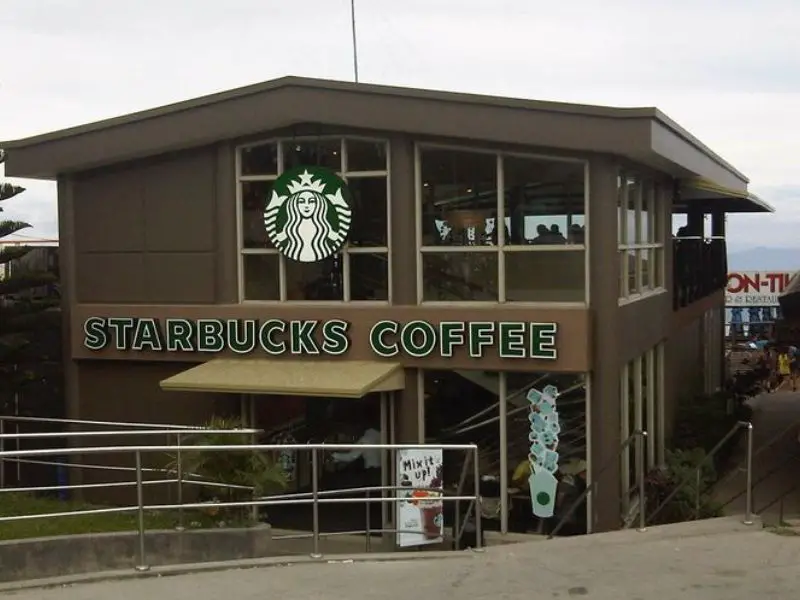 2. Ayala Malls Serin Tagaytay
Ayala Malls Serin Tagaytay, like other Starbucks branches, provides a wide range of food options, including fine chocolate cakes, and signature beverages.
Address:
G/F Ayala Malls Serin, Tagaytay-Nasugbu Road, Tagaytay City
Contact: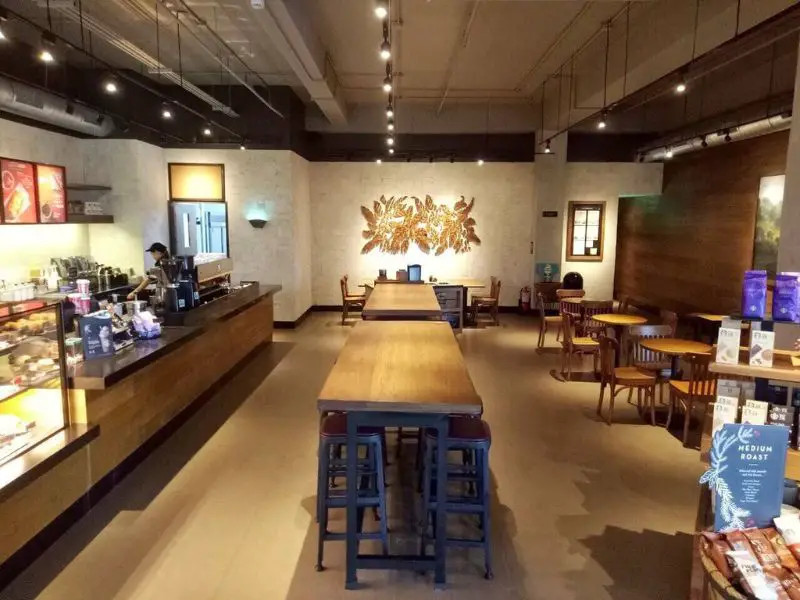 3. Calamba Road Tagaytay
Enjoy your favorite cup of coffee while taking in the scenery and weather of this city.
They say that the best way to enjoy a cup of coffee is with good company. Fortunately, you won't have to travel far to find both. Take a stroll outside and take in the sights and sounds of the city while sipping your favorite beverage.
Address:
Brgy. San Jose, Calamba Road, Tagaytay City
Contact: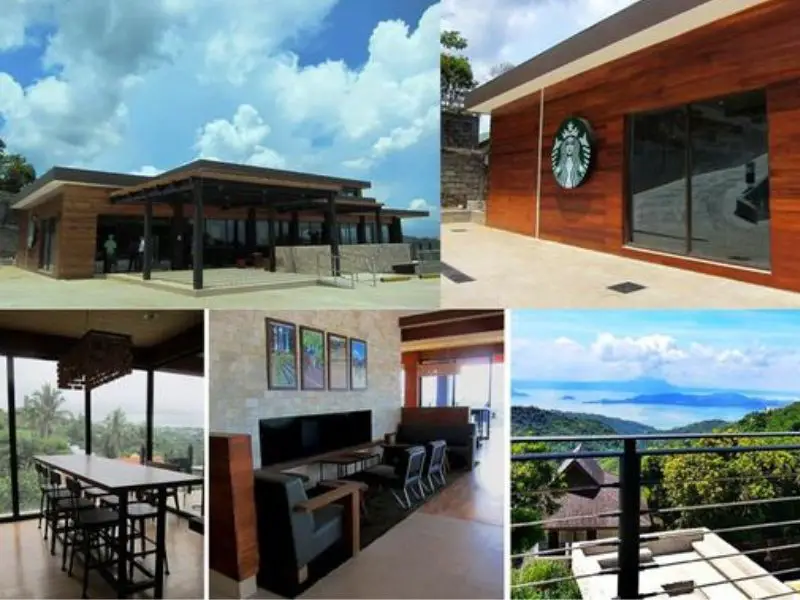 4. Domicillo Design Hotel
Sip your favorite handcrafted beverage while gazing out at Taal.
Address:
Address: Km. 58 General Emilio Aguinaldo Highway, Maharlika East, Tagaytay City, Cavite
Contact: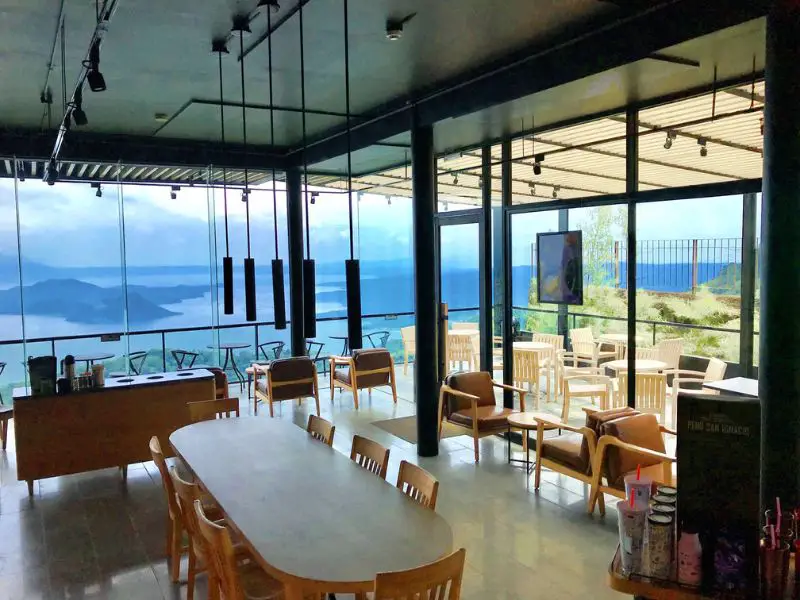 5. Summit Ridge Tagaytay
Visit Tagaytay's Summit Ridge for a break and to take in the breathtaking scenery while sipping your favorite handcrafted coffee.
Address:
Level 1, Promenade Summit Ridge Tagaytay, Aguinaldo Hwy., Maharlika West, Tagaytay City
Contact: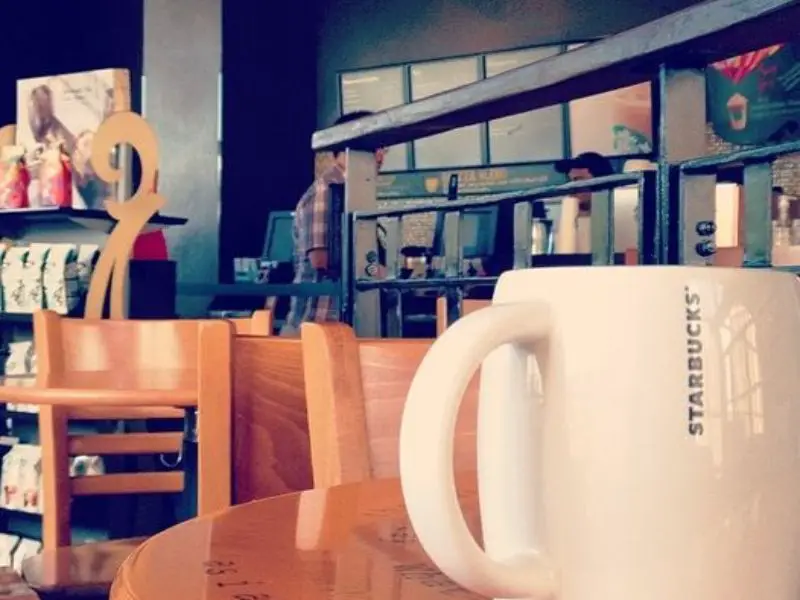 6. Twin Lakes Tagaytay
Drive out to Starbucks Twin Lakes in Tagaytay this weekend and enjoy the breathtaking view while sipping your favorite handcrafted beverage.
Address:
Twin Lakes Shopping Village, Brgy. Dayap-Itaas, Tagaytay-Nasugbu Road, Laurel Batangas
Contact: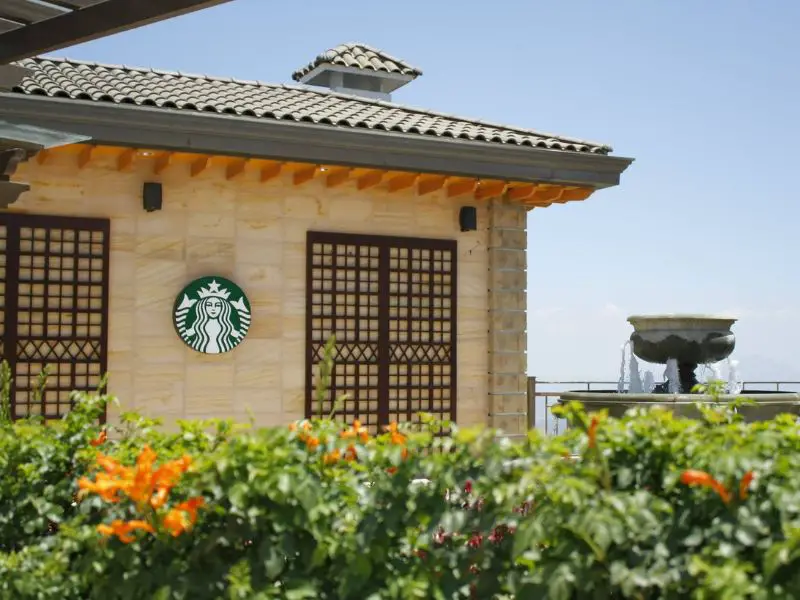 ABOUT STARBUCKS
Starbucks Corporation is a coffeehouse and roastery reserve multinational corporation headquartered in Seattle, Washington. It is the largest coffeehouse chain in the world.
Starbucks is a popular coffee shop known for its iced cold brew, frappuccinos, and lattes. Customers can enjoy a variety of beverages and snacks.
ABOUT STARBUCKS PHILIPPINES
The Philippines had its first taste of the Starbucks Experience on December 4, 1997, when the company opened its first branch at the 6750 Ayala Building in Makati City. Since then, Starbucks has won the hearts of Filipinos.
Starbucks Coffee and the Filipino people are a great cultural fit because of their tradition of warm hospitality, the constant need for connection, and their love for coffee.
As Tagaytay's coffee culture grows, new coffee shops open, offering an exciting and diverse range of flavors and experiences. This article has provided a comprehensive list of all Starbucks coffee outlets in Tagaytay for those who prefer the familiarity of Starbucks. This guide helps visitors find the perfect cup of coffee while exploring Tagaytay's beautiful sights and sounds. So, why not plan a trip to Tagaytay and experience the city's distinct and delectable coffee culture for yourself?
---
Related Posts
Uncover the enigmatic wonders of the Philippines: from stunning landscapes to rich heritage, indulge in its diverse flavors. A captivating journey awaits!

---