The Best Philippine Travel Ideas This January
The following are some of the greatest Philippine Travel Ideas This January.
Due to lower airfare, several overseas Filipino workers will return to the Philippines in January instead of December. The holiday season is over, but this month is great for those who prefer not to mix with the crowds. However, for those looking for a lively setting, there are a variety of festivities in the Philippines in January, including Ati-atihan, Kuyamis Festival, and Sinulog Festival.
Unfortunately, in December 2021, super typhoon Odette devastated the Visayas and part of the Mindanao region, where the majority of these festivals are held. This is the strongest typhoon to strike the Philippines in 2021, creating major power disruptions and affecting millions. The majority of the grand events scheduled will be postponed or cancelled while the region is still recovering. If you still want to go on a cultural or religious excursion, you can go to events in the north, and if you wish to relax on the beach, there are other locations in the north that have the same stunning atmosphere as the Visayas.
Because January is a cool and dry season, it is an excellent time to visit the highlands and enjoy the mild climate.

MANILA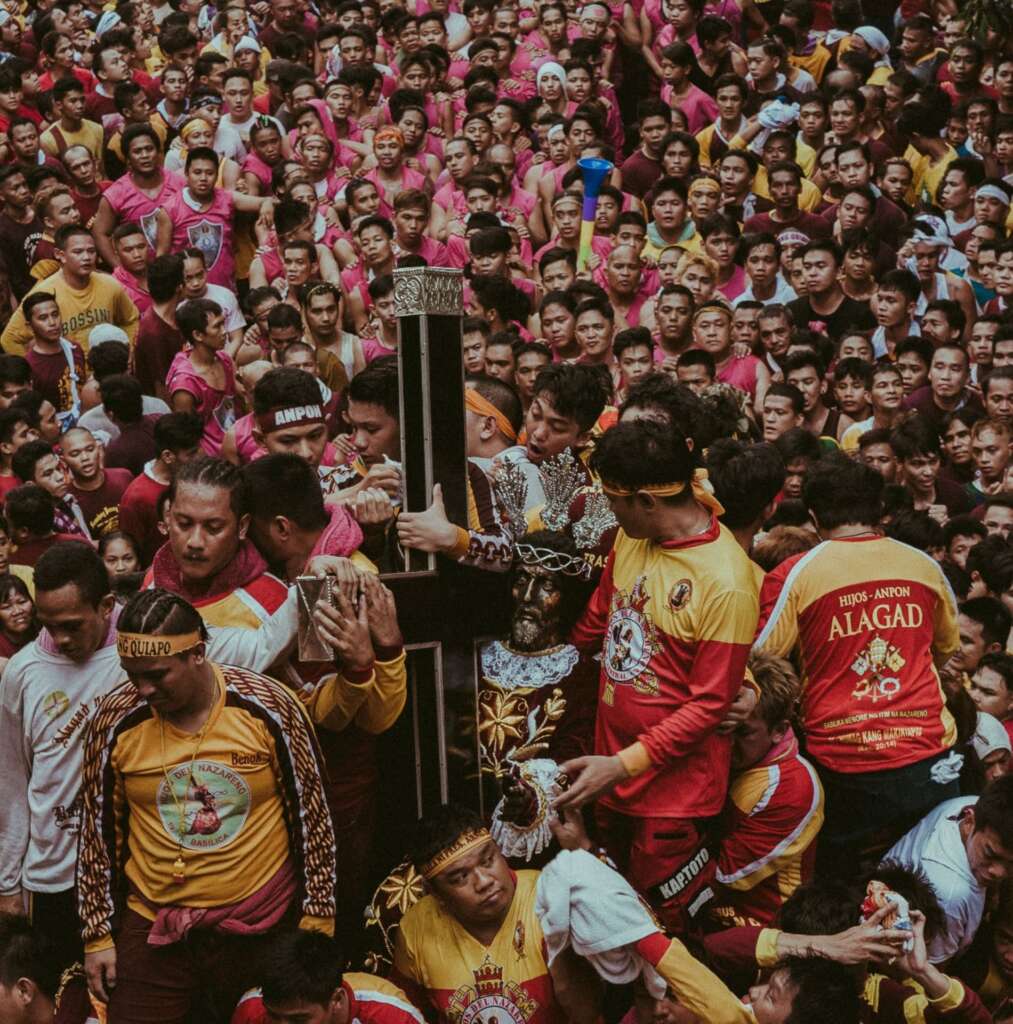 The feast of the Black Nazarene is celebrated every January in Manila with a magnificent procession known as Traslacion. Translacion is a grand procession in which millions of Christians gather to touch an image of the Black Nazarene. The icon, a dark-colored figure of Christ bending under the weight of a heavy cross sculpted by an anonymous Mexican sculptor. As COVID-19 remains a public threat, the 2022 procession of the Black Nazarene's image on January 9 has been canceled. Instead, the Feast of the Black Nazarene will be commemorated with a motorcade in selected areas of Manila, making it a perfect opportunity to visit the city because the spirit of the occasion may still be felt. It is also a great chance to see religious and historic places like as Intramuros, the National Museum of the Philippines, Escolta, and San Agustin Church and Museum on a side excursion.
The newly renovated Manila Zoological and Botanical Garden, or Manila Zoo in Malate re-opened in December and is a good addition to your itinerary. Transparent glass enclosures for the animals, higher observation decks, and a viewing loft at the Butterfly Garden are among the upgrades. The Animal Museum and Botanical Garden, as well as the pathways around the site, have also been renovated.  Guests can also expect accessible bathrooms, souvenir shops, snack booths, drinking fountains, a wider parking space and benches will also be installed along pathways. The zoo will be well-lit for night visitors, complete with night attractions such as dancing fountains and small waterfalls around the lagoon.


TAGAYTAY

Tagaytay is one of the most popular locations near Metro Manila due to its stunning surroundings. It has a view of Taal Lake and Taal Volcano, as well as a cool environment, due to its high elevation. Tagaytay's weather in January 2022 is forecast to be warmer than usual. Temperatures range from 23°C to 28°C on average, with occasional days of rain, but the weather is still much milder than in larger towns nearby, making it a suitable destination to consider if you are on a late vacation. Expect misty breath and damp foliage, although temperatures are unlikely to fall below 18 degrees Celsius.

BAGUIO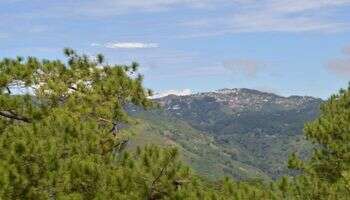 Baguio is a highland city in the Philippine province of Benguet. The weather is colder than the rest of the country, making it a popular destination for getaways. Baguio City has been designated as the Summer Capital of the Philippines. The summer season in the Philippines lasts from March to May, but there is also a surge of visitors during the cold season, which lasts from November to February. December is especially crowded, with most hotels completely booked, so avoid visiting the city unless you have a prior reservation during the Christmas season. If you want to avoid the crowds, January is a great time to enjoy the moderate weather because most guests have already returned to work.

VIGAN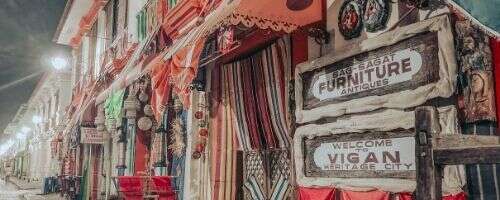 The average temperature in January is around 27 degrees Celsius, making it an ideal time to visit Vigan City. The weather is ideal for outdoor recreation, with the air being fairly humid. This is most likely one of the greatest seasons to visit Vigan City. Vigan is a Unesco World Heritage site and the best example of a Spanish Colonial village. Much of its Hispanic colonial identity has been retained, particularly its grid street pattern and old urban layout. Its significance is partly based on how the many architectural elements are integrated to create a cohesive townscape.

PUERTO GALERA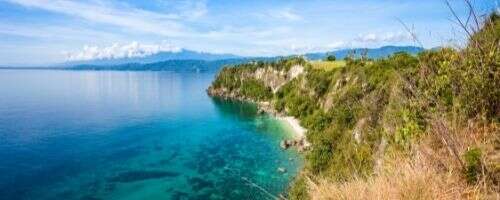 It is located on the island of Oriental Mindoro and is one of the more accessible beaches from Metro Manila, making it popular with both locals and tourists. Puerto Galera is one of three areas in the Philippines designated as a Man and Biosphere Reserve by UNESCO in 1973, the other two being Palawan and Albay. It is most known for its natural beauty and water activities. This location was previously a fishing community, but it has since become one of the most popular tourist attractions due to its natural beauty and water activities. Some of the best beaches in Puerto Galera are Aninuan Beach, Balatero Beach, Balete Beach, Bayanan Beach, Big La Laguna Beach, Bulabod Beach, Dalaruan Beach, Dulangan Beach, Encenada Beach, Haligi Beach, Hundura Beach, Minolo Beach, Palangan Beach, Sabang Beach, Sinandigan Beach, Small La Laguna Beach, Small Tabinay Beach, Talipanan Beach, Tamaraw Beach, and White Beach.

SAGADA
The greatest time to visit Sagada is from November to February, however, December is peak season, so January is a good option. The average temperature in Sagada in January 2022 is expected to be between 15 degrees Celcius and 26degrees Celcius. Sagada is a mountain town, so it's best to visit when the weather is cool and calm. Sagada is known for its stunning mountain valleys, rice fields, limestone caves, refreshing waterfalls, and cliffs encircled by a sea of clouds. Sumaguing Cave is most likely the most popular tourist attraction in town. Sagada is best suited to backpackers and "soul seekers."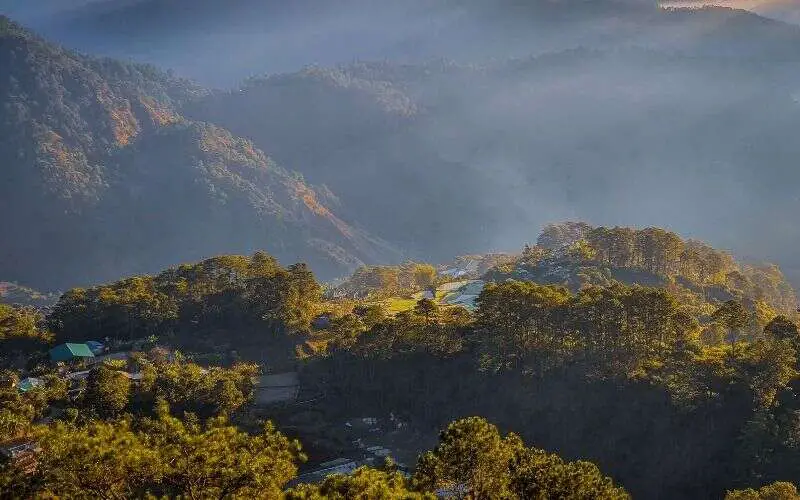 Philippine Travel Destinations You Don't Want to Miss
Honda Bay Palawan in the Philippines is a stunning destination that offers a plethora of natural wonders and exciting experiences. This coastal paradise is known for its crystal-clear turquoise waters,…

---
Uncover the charm of the Philippines with these irresistible offers
This list offers irresistible great deals that allow budget-conscious travelers to experience the beauty of the Philippines without breaking the bank. Discover the country's breathtaking attractions and vibrant culture and prepare to embark on an unforgettable trip to the Philippines with these low-cost options.
Discover mouthwatering deals! Enjoy Foodpanda Philippines' September 2023 discounts and promos. Savor the savings today!

---

Uncover tips and airlines for affordable flights to Boracay. Learn the best time to visit and snag cheap deals for your dream vacation.

---

Discover the full specifications and anticipated price of the Poco X5 Pro in the Philippines for 2023. Is it worth buying? Find out in our detailed article.

---

Did you know that you can book hotels through Airasia? It is Super Cheap! Find out more…

---

Find what makes you happy whenever and wherever you want, from close-by getaways to far-flung adventures with these Klook discount coupons.

---

---

In this blog post, we'll tell you how to get Manila Ocean Park tickets for free. Take advantage of Hotel H2O's Yuletide Getaway for a joyous urban staycation with free tickets at Manila Ocean Park!

---

Agoda is a global leader in the hotel booking industry with over two decades of experience. Customers can expect inexpensive costs and a variety of booking options.

---

Any tourist who decides to visit Cebu should be aware of the essential items and deals for a memorable trip.

---
---