Located in the southern region of the Philippines, Mount Matutum boasts of its scenic beauty, captivating landscapes, and diverse flora and fauna. With its majestic peaks, verdant forests, and cascading waterfalls, this destination is perfect for nature lovers and adventure enthusiasts. Get ready to explore the unspoiled wilderness, trek through challenging trails, and immerse yourself in the wonders of this natural gem.
ABOUT MATUTUM
Mount Matutum is an impressive stratovolcano situated in the southern Philippine island of Mindanao, specifically in the province of South Cotabato. It is an active volcano that reaches a height of 2,286 meters above sea level and has a 320-meter-wide crater at its summit. Mount Matutum is part of the Cotabato Volcanic Belt, which stretches from the eastern coast of Mindanao to the central part of the island.
Matutum derives its name from the Blaa'n term "Amyak Maleh," which means "Climb and Plant." 
This mountain has been designated as a new UNESCO World Heritage Site, with its forested sides protected and managed by the Blaa'n, a South Cotabato indigenous group.
The mountain is a popular destination for hikers and mountaineers due to its scenic views and challenging terrain. Its forested slopes support a diverse range of plant and animal life. Its irregular and distinctive shape is the result of volcanic uplift during previous periods of activity.
Mt. Matutum's hillside is a breathtaking place where nature is abundant and unrestrained, instilling humble respect for nature and the environment. The summit of the volcano provides a spectacular panoramic view of Polomolok, Koronadal City, and General Santos City.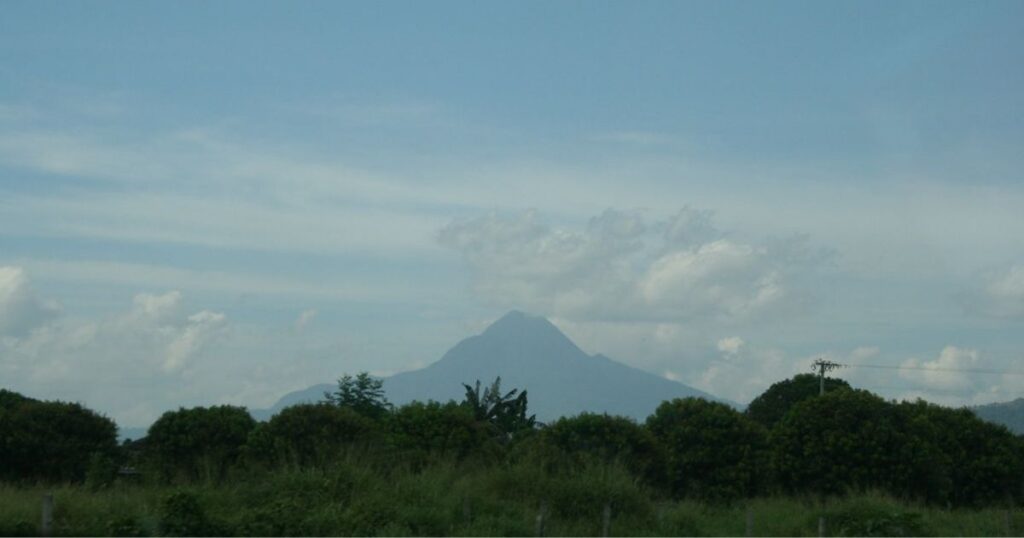 The slopes of Mount Matutum are covered in dense tropical rainforest that is home to a rich variety of flora and fauna. It is a biodiversity hotspot and a crucial habitat for endangered species such as the Philippine eagle and the Philippine tarsier. The mountain's ecosystem is also home to many endemic species, which are found nowhere else in the world.
Mount Matutum is also a significant watershed, supplying water to nearby towns and cities. Mountain forests act as a natural barrier, preventing soil erosion and flooding in downstream areas.
Under the shadow of Mt. Matutum, in Polomok, is the world's largest integrated pineapple plantation, owned and operated by Dole Philippines. Polomolok is also known as "Pineapple Country," and its vast and fertile fields are a sight to behold.
In addition to its ecological importance, Mount Matutum is also culturally significant to the local tribes of South Cotabato. It is regarded as a sacred mountain, and many indigenous communities consider it a spiritual sanctuary. The mountain's forests provide the tribes with food, medicine, and other resources necessary for their livelihoods.
LOCATION
Matutum is in southern Mindanao, northwest of Sarangani Bay and 30 kilometers northwest of General Santos City.
Mount Matutum is a must-see for anyone interested in experiencing the natural wonders of the Philippines. This mountain offers a truly unforgettable adventure with its stunning landscapes, diverse wildlife, and challenging trails. So, what are you holding out for? Pack your bags and set out today to discover Mount Matutum's extraordinary wonders.
Find Hotels Near Matutum
---
Explore the Best of Philippines: Must-See Tourist Destinations
The Philippines is a stunning cluster of islands brimming with breathtaking natural wonders and cultural treasures. With over 7,000 islands, the country offers a diverse range of destinations to explore, from bustling urban centers to tranquil shorelines, and historical landmarks to breathtaking terrains. The Philippines caters to every traveler's needs, whether it's seeking an adventurous escapade, unwinding on a serene beach, or delving into cultural experiences. This guide presents a curated list of must-see tourist destinations in the Philippines, each of which offers a distinct and charming experience. So, prepare to embark on an adventure to discover the best of the Philippines.
Honda Bay Palawan in the Philippines is a stunning destination that offers a plethora of natural wonders and exciting experiences. This coastal paradise is known for its crystal-clear turquoise waters,…

---
The Banaue Rice Terraces in the Philippines are a magnificent testament to human ingenuity and a true marvel of Philippine heritage. Located in the northern part of Luzon, these terraces…

---

Discover the convenience of applying for your OFW Pass using the DMW Mobile App. Follow our comprehensive step-by-step guide for a seamless application process. Your journey to hassle-free documentation starts here.

---

Unravel the power of PHIVOLCS: A comprehensive guide exploring their role in monitoring volcanoes and earthquakes. Discover cutting-edge technologies used.

---

Unearth unbeatable deals and score the cheapest flights to the Philippines with expert tips and lesser-known strategies. Journey awaits!

---

Uncover the best travel deals in the Philippines now and embark on a journey through stunning destinations and hidden gems. Don't miss out!

---

Discover the beauty of Lake Holon – a hidden gem located in the Philippines. Learn about its history, culture, and conservation efforts.

---

Discover the top affordable beach resorts in Subic. Enjoy your budget-friendly beach getaway with these tips and recommendations. Read more now!

---

Discover the best travel agencies in the Philippines for a stress-free and unforgettable vacation. From big players to hidden gems, find your perfect match today!

---

Search for the best hotels using this comprehensive list of DOT-accredited hotels in Baguio.

---

This page contains links to the best Cebu Pacific Piso FarePromo. Cebu Pacific is one of Southeast Asia's leading airlines, serving more than 60 destinations across the region.

---

Looking for the best travel agencies in Manila? Our comprehensive list features only DOT-accredited agencies, ensuring you'll receive top-quality service and have a stress-free vacation. Let us guide you to the perfect agency for your needs and plan the trip of a lifetime to this vibrant city.

---

Experience the ultimate travel adventure with PAL's EPIC SALE! Discover unbeatable deals on luxurious escapes and exciting destinations, and elevate your travel experience to new heights.

---

Unlock your potential and unleash your entrepreneurial spirit with these 100 powerful business ideas to start in the Philippines this 2023. From online tutoring to personalized jewelry stores, fuel your passion and ignite your success with these uncommon and emotionally impactful business ventures. Discover your path to financial freedom and build your dream business today.

---

This page contains links to the most recent Cebu Pacific promotions for the years 2022-2023. Cebu Pacific is a leading airline in Southeast Asia, serving more than 60 destinations throughout the region. By providing high-quality, low-cost air travel, it has grown to become a major player in the aviation industry.

---

Learn about the departure schedules from PITX to Baguio and vice versa, and eveything you need to know about P2P, PITX and Solid North Transit.

---

Discover the hidden treasures of Baguio with our comprehensive guide to the complete list of DOT-accredited travel agencies in the city. Find the most reputable and trustworthy travel agencies in Baguio that offer exceptional services and unforgettable experiences for your next adventure.

---

Booking hotels via a mobile app is now preferred due to its convenience and well-organized structure. Many hotels and even smaller accommodations in the Philippines have partnered with popular hotel…

---