Nestled in the breathtaking mountains of Bukidnon, Dahilayan Forest Park is a must-visit destination for adventure-seekers and nature lovers alike. With a wide array of attractions and activities to choose from, it's easy to get lost in the excitement and beauty of this natural wonderland. To make the most of your visit, our comprehensive guide covers everything you need to know, including the entrance fee and tips to help you plan a memorable trip. So get ready to explore Dahilayan Forest Park and create unforgettable memories in this stunning destination.
ABOUT DAHILAYAN FOREST PARK RESORT
Dahilayan Forest Park is a tourist spot with a wide range of entertaining activities for the whole family and for people of all ages. The construction of Forest Park was intended to support the growth of the Philippine tourism sector overall and in Bukidnon.
Ponds, lagoons, and a picnic area with beautiful scenery. The resort doubles as the Ultimate Family Playground by providing activities that everyone may enjoy outdoors.
For hearty lunches, visit the Forest Park Cafe or go to Jessie's Diner for hamburgers and classic milkshakes. At the Grizzly Bar by the fireplace, you may unwind while enjoying the brisk mountain air.
Dahilayan Forest Park Resort also extends invitations for parties and other events. Call us if you want to learn more!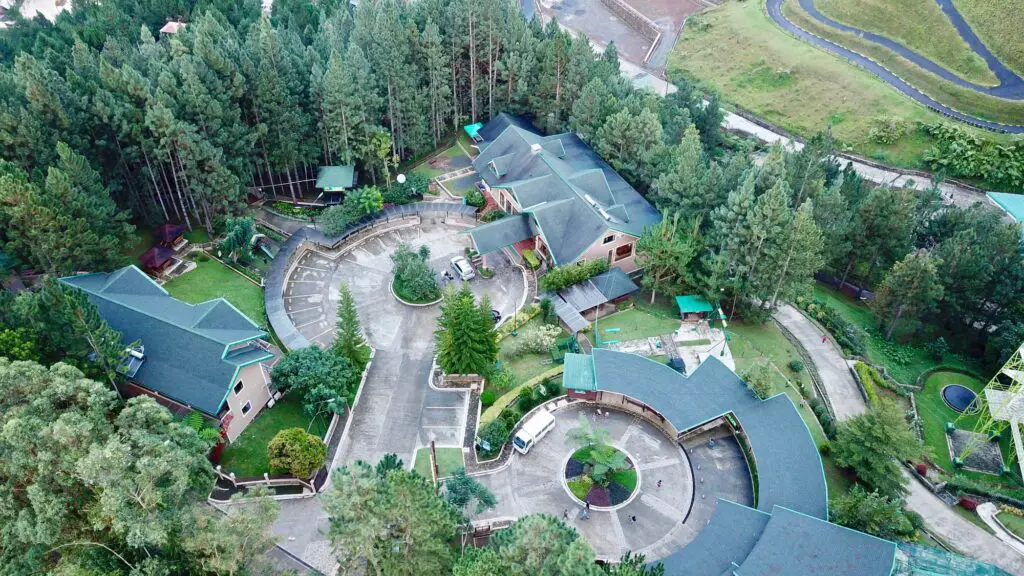 DAHILAYAN FOREST PARK ENTRANCE FEE
P100 (10 years old and below)
P150  (Above 10 years old)       
RIDES PACKAGE
ONLY P800   
Luge
Hanging Bridge 
Mini Golf 
Go Cart 
Bumper Boat
Dahilayan forest Park Ticket promo
The Dahilayan Forest Park ticket promo offers visitors the chance to experience the best of what the park has to offer at a discounted price. The ticket promo typically includes access to a variety of thrilling attractions and activities:
Experience the ultimate adventure at Dahilayan Adventure Park, the most popular extreme attraction park in Mindanao.
Soar like a superhero. You can ascend to a height of up to 4,700 feet at the 840m Zipline, the longest dual zipline in Asia.
Views of the Dahilayan hills will take your breath away as you travel through lush surroundings.
Get your adrenaline rush with a skybike ride, sky tower jump, pendulum swing, and so much more.
Discover a unique outdoor adventure, ideal for trips with friends and family vacations.
ATTRACTIONS AT DAHILAYAN FOREST PARK
Forest Luge
Founded in New Zealand, the Luge is a part go-cart, part toboggan ride that rolls down a track with thrilling twists n' turns and mountain views amid the cool fresh air.
The Forest Park Luge is the ONLY Luge ride in the Philippines. It is a fun-filled activity for all ages!
PHP 600.00 per head includes 2 rounds PLUS FREE Hanging Bridge and Mini Golf
ATV and Buggy Trail Adventure
Get on an ATV(all-terrain vehicle) or Buggy (for two) as our guide takes you on an amazing ride along our 3.2 km forest trail of rough terrain, steep hills, scenic views, and cool weather.
ATV: PH 850.00 per head
Buggy: PHP 1,400.00 (2 Riders)
Hanging Bridge
Experience our Hanging Bridge with scenic views of nature like never before! Hung 30-meters above ground, this cable bridge connects directly to the START of the LUGE. Suited up with a harness, the bridge is an 80-meter walk from one end to the other. Below the bridge, you will see lagoons and different tracks above the magnificent sky and an all-around unobstructed view of nature's glory.
PHP 100.00 per head
Barrel Train
Age does not matter in this enjoyably adorable ride! Towed behind an ATV is a train of animal-inspired barrels. Each barrel can hold up to 1 adult and 1 child at a time. This 10-minute barrel train ride will take you on a leisurely fun tour around the park. Perfectly safe for the little ones and equally as fun for the bigger ones!
PHP 50.00 per head
Forest Putt Mini Golf
Enjoy our 18-hole putting course with lush landscapes and life-size animals, suitable for both children and adults.
Php 50.00
Treetop Adventure
Our fun-filled obstacle course is located between pine trees approximately 8-11 feet in the air. You will climb ladders, travel across floppy bridges, crawl in tunnels, and even zip across on a wakeskate in this action-packed 21-station treetop adventure.
PHP 250.00 per head w/ FREE Monkey Tree Challenge
Bumper Boat
Enjoy bumping and spinning around on the boats in our large man-made mountain lagoon. Great for kids and adults!
PHP 150.00 per head (Add Php 50.00 for Tandem)
Monkey Tree Challenge
Climb 40 feet above the playground for an awesome aerial view of the resort on our Monkey Tree Challenge. Challenge yourself and climb to the top to ring the bell then just let go and let the TrueBlue Auto-Belay system take you down safely.
Monkey Tree Challenge: Php 50.00 per head
Dahilayan Express Train
Our mini train will take you on a short tour around the pocket valley areas of the resort passing through the lush pine trees and some realistic-looking life-size animals.
The Razorback Mountain Coaster
The newest attraction of Dahilayan Forest Park Resort is the Razorback Mountain Coaster. It is the first alpine coaster in the Philippines and features a distinctive 600-meter monorail track that winds through the Dahilayan forest. It has speed limiters and a controllable brake system so you can choose how quickly or slowly you move. Only Vietnam, Thailand, Europe, and America offer a similar ride.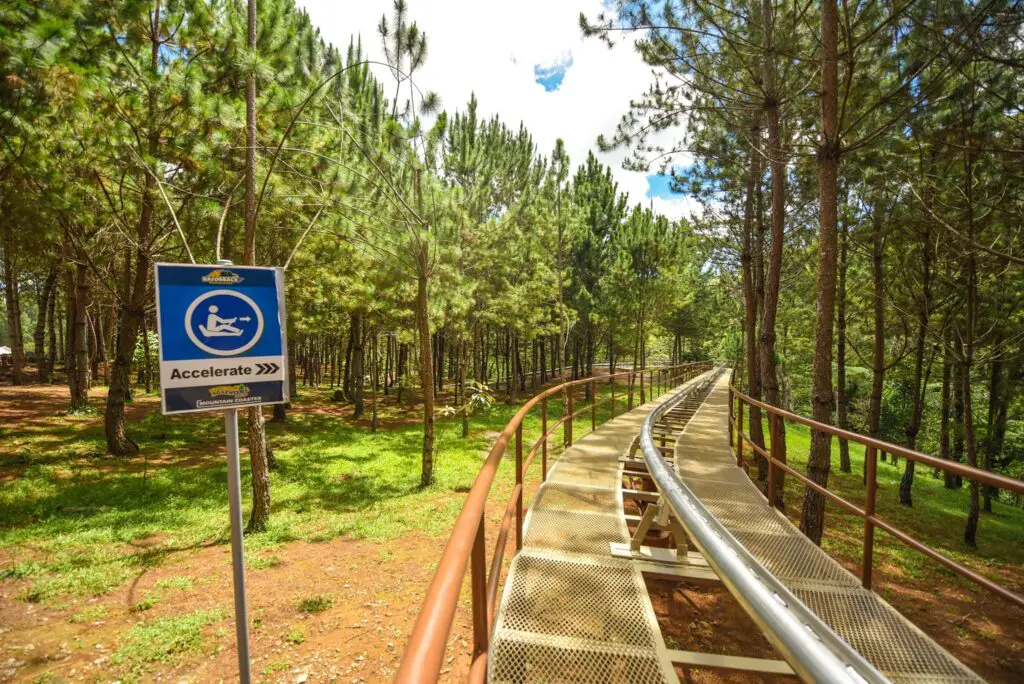 ---
LOCATION OF DAHILAYAN FOREST PARK RESORT
Dahilayan Forest Park is tucked away at the base of Mount Kitanglad, 4,700 feet above sea level, in Barangay Dahilayan, Manolo Fortich, Bukidnon.
Address: Brgy. Dahilayan, Manolo Fortich, Bukidnon, Philippines
HOW TO GET TO DAHILAYAN FOREST PARK
From Cagayan de Oro city, head east on CM Recto highway and turn right on Cagayan de Oro- Bukidnon highway intersection.
Turn right on Alae junction and proceed to Camp Philips and thru the pineapple plantation.
Follow signs along the road to Dahilayan Forest Park Resort
DAHILAYAN CONTACT INFORMATION
---
RELATED POSTS
Located in the southern region of the Philippines, Mount Matutum boasts of its scenic beauty, captivating landscapes, and diverse flora and fauna. With its majestic peaks, verdant forests, and cascading waterfalls, this destination is perfect for nature lovers and adventure enthusiasts. Get ready to explore the unspoiled wilderness, trek through challenging trails, and immerse yourself…

---