This page provides a complete list of Filipino festivals in November. Find out when and where the festivals take place and what to buy during the festivities.
LIST OF FESTIVALS IN THE PHILIPPINES IN NOVEMBER
Binabayani Festival
Day-ang Di Onga Festival
Feast of San Clemente/ Gigantes
Guipao Festival
Kalag-Kalag Festival
Kawayanan Festival
Lambat Festival
P'yagsawitan Festival
Pintaflores
Sanduguan Festival
Santa Ipon Festival
PHILIPPINE FESTIVALS IN NOVEMBER
Binabayani Festival
Olongapo, Zambales – Last week
Zambales' take the world-famous Ati-Atihan. A war dance between Christians and Aetas is performed on the feast day of San Andres, the patron saint of Masinloc. The townspeople believe that performing the Binabayani will result in a bountiful harvest. Binabayani is a war dance that depicts the battle in Masinloc between Christians and Aetas. It's a Sambal word that means bravery.
Day-ang Di Onga Festival
Baguio City – November 30
This is one of the region's major events, with young Cordillerans participating in a day-long "celebration of life."
Gigantes
Angono, Rizal – November 22-23
A celebration in Angono Rizal in honor of San Clemente, the patron saint of the fishermen. This celebration is marked by a parade of paper-mâché giants representing the local's mockery of bad land owners and as a form of protest during the Spanish colonization.
Guipao Festival
Sagnay, Camarines Sur – November 23 – 30
An annual celebration in honor of its Patron St. Andrew the Apostle. This festival portrays the main source of living for Sagñaynons which is fishing.
Kalag-Kalag Festival
Cebu City – November 13
Kalag-kalag, or All Souls Day, is a major holiday in the Philippines. Families gather at cemeteries to celebrate and remember their loved ones who have died.
Kawayanan Festival
Pagadian, Zamboanga del Sur – 3rd week
The Kawayanan Festival celebrates one of the town's most abundant resources, bamboo. Students of various levels take part in the street dance wearing costumes made of or inspired by bamboo. Meanwhile, various barangays display various bamboo crafts ranging from small home displays to a whole bamboo huts.
Lambat Festival
Pioduran, Albay – Last week of November
This event in Pioduran is to honor its patron Saint Nuestra Señora de Salvacion.
P'yagsawitan Festival
Maragusan, Davao Province – 3rd week
A commemoration of the founding anniversary of the Municipality of Maragusan. This is also a thanksgiving festival for bountiful harvests and highlights the rich cultural heritage of Mansaka.
Pintaflores
San Carlos City – November 3-5
A celebration to commemorate the beginnings of San Carlos The highlight is a grand street dancing parade with the dancers decorated with creative tattoos or paint and wearing floral costumes. The festival's name is derived from the Spanish words "pinta," which means paint, and "Flores," which means flowers.
The region now known as San Carlos City was named after a legendary Princess Nabingka who hailed from Cebu City and traveled to this nearby island and ruled the barrio during the early part of the 17th century. San Carlos used to be called Nabingkan.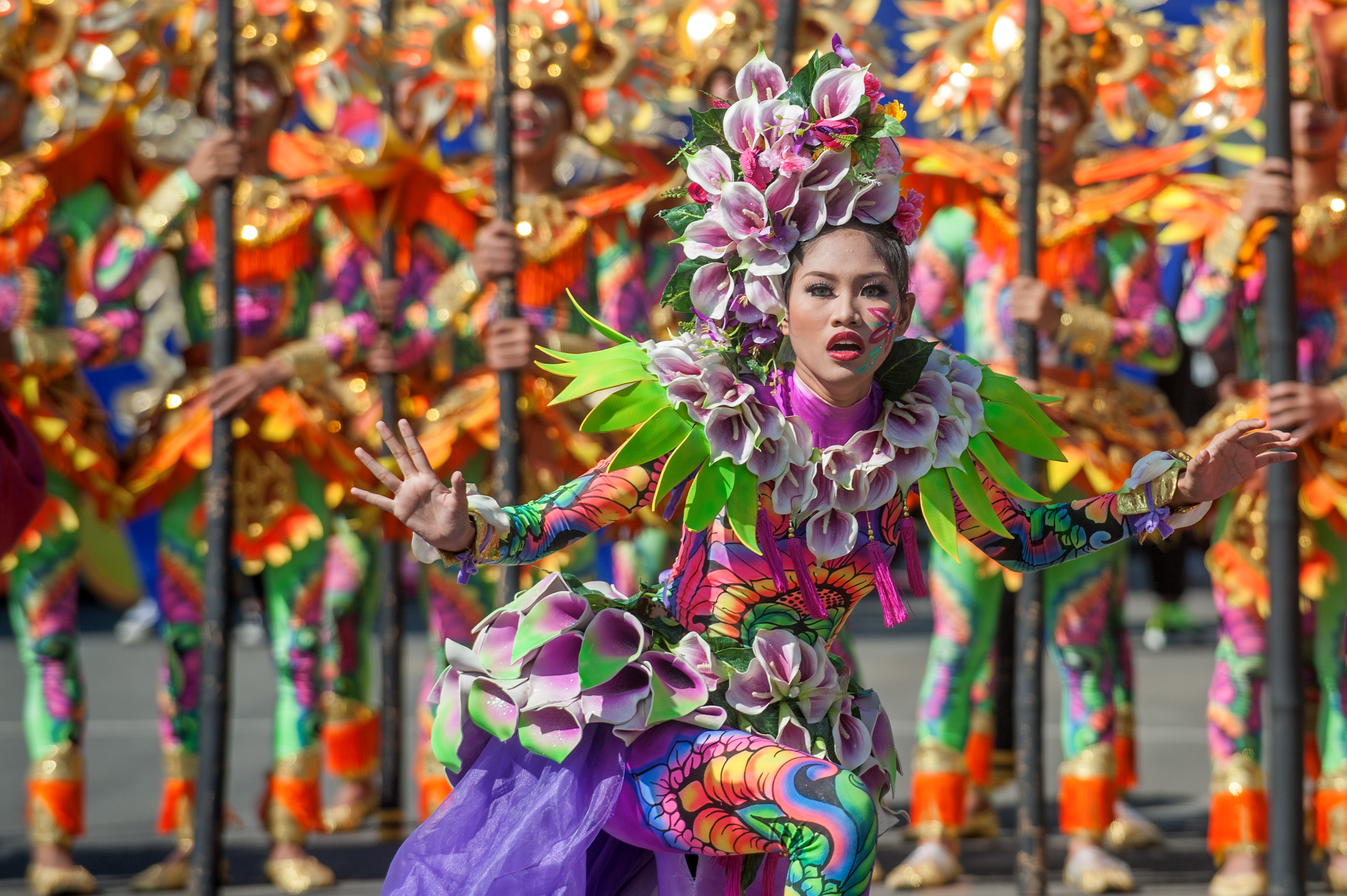 Sanduguan Festival
Calapan, Oriental Mindoro – November 15
This festival highlights the reenactment of the first barter trade between the indigenous tribe of Mangyan and the Chinese traders. Sanduguan is derived from the Mangyan word "sandugo" which means "brotherhood."
Santa Ipon Festival
Santa, Ilocos Sur – November 25 – December 25
This is a thanksgiving festival and highlights the catching of the ipon. Ipon is a tiny species of fish that can only be found in certain coastal areas of Northern Luzon.
Festivals by Month: JAN FEB MAR APR MAY JUN JUL AUG SEP OCT NOV DEC