The Philippines has a number of holidays throughout the year. There are several Philippine festivals in March with the following being some of the more noteworthy.
List of Philippine Festivals in March
THE MOST POPULAR PHILIPPINE FESTIVALS IN MARCH
Ang Pagtaltal sa Guimaras
Jordan, Guimaras – Good Fiday
Ang Pagtaltal sa Guimaras is a lenten presentation on Jordan's hillside. The play is based on the well-known Oberrammergau Passion Play in West Germany. The play depicts the story of Christ's Passion, beginning with the entry into Jerusalem and concluding with Christ's death on the Cross.

Alimango Festival
Lala, Lanao del Norte, March 22
The Alimango Festival is a celebration of nature's bounty for the people of Lala and the entire Province of Lanao del Norte, as well as a day to recognize the hard work of its constituents in sustaining the industry with which the municipality is proud to be associated. Among the events is a grand street dancing parade themed after the ocean, crab races, the largest crab contest, and an agri-trade fair.
Anibina Bulawanun Festival
Compostela Valley Province, March 8
This is a multi-themed annual eight-day festival that culminates on March 8, the province's founding day, as well as a celebration of the abundant rich agricultural harvests and abundant mineral resources. The festival is held during the first week of March in the municipality of Nabunturan.
Centurion Festival
General Luna, Quezon, Holy Week
This colorful festival is thought to be the origin of Marinduque's Moriones Festival.
Holy Week
This is a week-long commemoration of Jesus Christ's crucifixion. It includes Palm Sunday, Holy Monday, Holy Tuesday, Holy Wednesday, Maundy Thursday, Good Friday, Black Saturday, and Easter Sunday. Palm Sunday is observed on the fifth Sunday of Lent, with churchgoers bringing palm branches and leaves to commemorate Jesus Christ's arrival in Jerusalem. On Holy Thursday, Catholics participate in a Visitaa Iglesia, in which they visit at least seven churches. On Good Friday, believers perform a Pasyon, or choral story of Christ's life, in which they re-enact Christ's sufferings and death on the Cross. Easter Sunday is honored by Salubong, or morning processions, which take place around the country.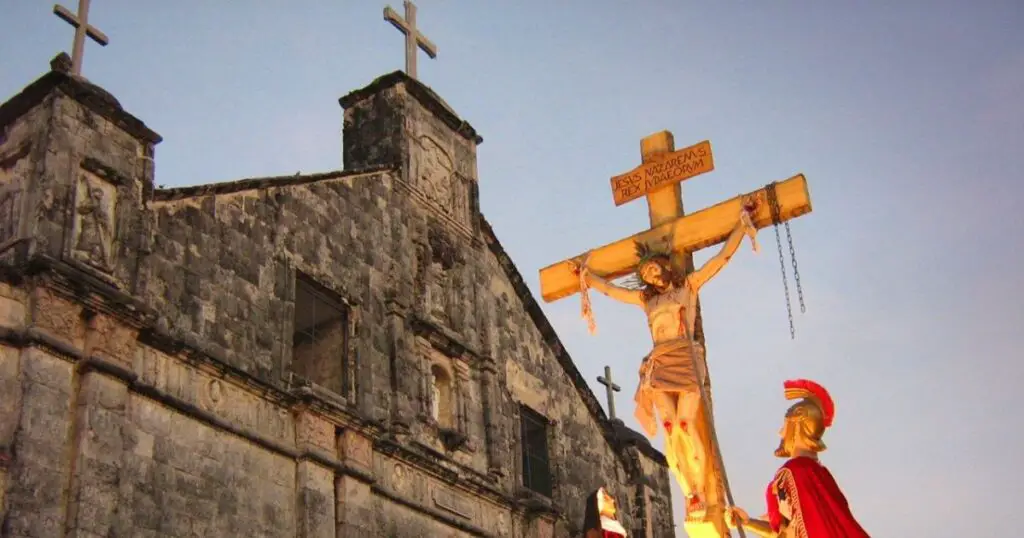 Island Garden City of Samal Festival
Island Garden City of Samal, First Week of March
Samal celebrates its founding anniversary for a week every year in the first week of March. This festival, which includes a water sports competition, a horse battle, a sand construction challenge, and cultural presentations, highlights Samal's natural resources.
LAGA FESTIVAL
Abra, 2nd Week of March
Abra's abundance of bamboo and the products manufactured from it are both celebrated at the Laga Festival. The Laga Festival, which takes place during the second week of March every year, is comparatively new compared to other Abra festivals but has since gained popularity because of the many events that are a part of the celebration and highlight the Ilocanos and Tingguians' cultures through songs, dances, and their distinctive bamboo products. 
Kaamulan Festival
Malaybalay, Bukidnon, March 23 to April 13
The Kaamulan Festival is an ethnic cultural festival celebrated yearly in Malaybalay City, Bukidnon, Philippines, from the second half of February to March 10, the anniversary date of Bukidnon's establishment as a province in 1917. A large street dancing and float procession, a tableau presentation, a concert of traditional music and dances, a traditional tribal sports celebration, art exhibitions, a rodeo, and a month-long trade fair are among the events.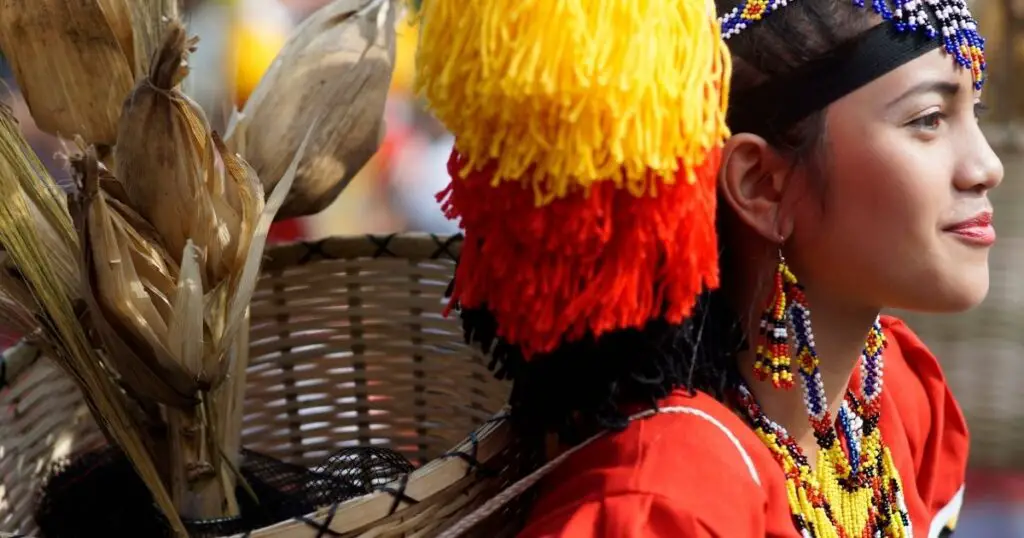 Ligao Sunflower Festival
Ligao City, March 24
This celebration is organized to mark Ligao's cityhood anniversary. The highlight is a street dance with the colorful sunflowers that grow in abundance near the Kawa-Kawa Natural Park.
Malasimbo Festival
Puerto Galera, March 10-12
This event celebrates music, the arts, the environment, and culture. With the objective of safeguarding and nourishing the environment, the festival includes ancient and contemporary arts and culture, as well as musical acts.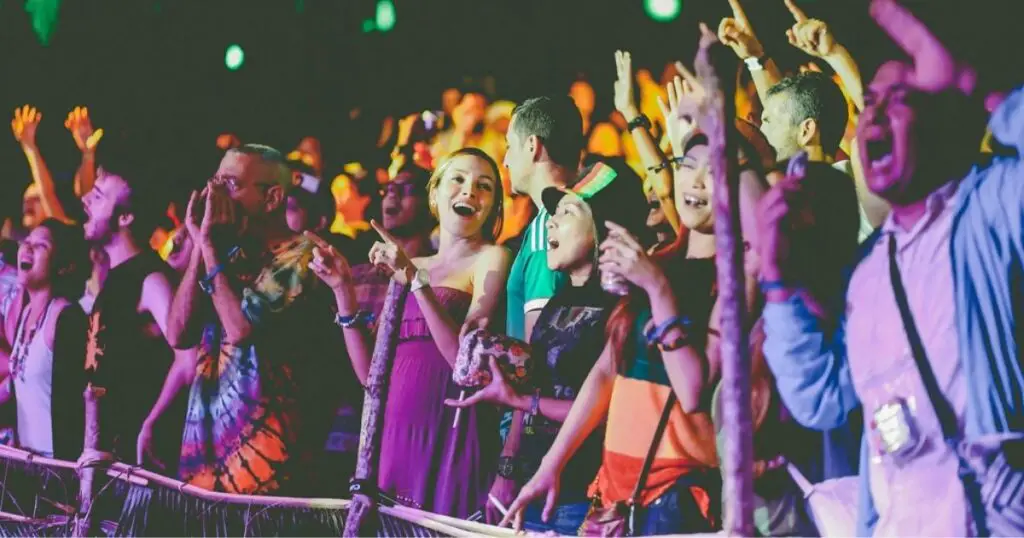 Moriones Festival
Marinduque, Holy Week
This festival takes place during Holy Week. Moriones is a costume used to reenact the Longhinus narrative. Longihus, who was almost blind, was healed when some of Jesus' blood and water spilled into his eyes. It was then that he began to believe in Jesus and began to tell others about what had occurred.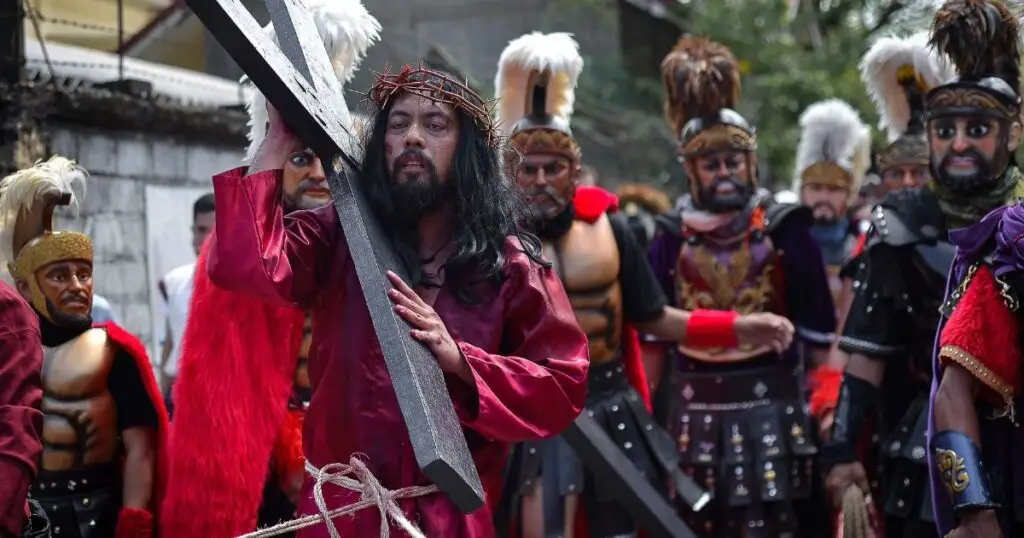 Pangalap Ritual
Nueva Valencia, Good Friday
This is a ritual in which believers crawl through the Catilaran cave repeating prayers in the hopes of receiving supernatural abilities to ward off bad spirits.

Witches Festival
Siquijor, Holy Week
Siquijor is well-known throughout the country for its "witchcraft." The event begins with a Holy Mass, showcasing how the island has blended indigenous rituals with the Catholic faith in various ways. 
Philippine Festivals by Month: JAN FEB MAR APR MAY JUN JUL AUG SEP OCT NOV DEC
---