List of Philippine Festivals in May
The Philippines has a number of holidays throughout the year. There are several Philippine festivals in May, with the following being some of the more noteworthy.
Pahiyas Festival
Lucban and Sariaya, Quezon – May
The Pahiyas Festival, also known as the Feast of San Isidro, features houses decorated with colorful "kiping" accented with farm produce such as rice, fruits, plants, and vegetables as a way of giving thanks for the plentiful harvests. Officially, it is now known as the Lucban San Isidro Pahiyas Festival and is held only once a year, on May 15th. This is a thanksgiving festival to San Isidro Labrador for the abundant harvest of the previous year.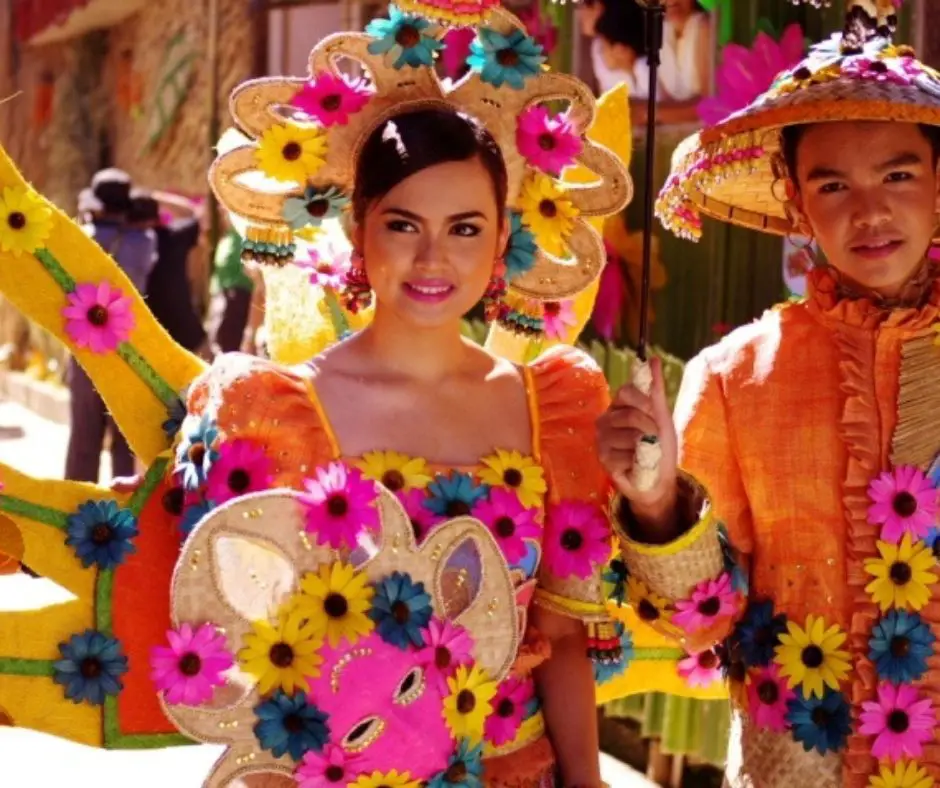 Pista y Dayat Festival
Pangasinan – May 1
A thanksgiving festival in Lingayen, Pangasinan, also known as the sea festival, celebrates the region's abundant sea harvest with musical competitions, trade fairs, and tourism expositions, beauty pageants, and sports festivals.

Alinsangan "Bowa-bowahan" Festival
Nabua. Camarines Sur – May 1 – 2
A vibrant cultural festival derived from the dialect Alinsangan, a word that describes the characteristics of the inhabitants of the early settlements. It is a fertility and thanksgiving festival.
Magayon Festival
Albay Provinc -May 1–31
This is a celebration of the Albayano way of life and thanksgiving for the abundance of the land's plentiful harvest, with activities such as agricultural product displays and trade fairs, cooking shows, cultural events, street parades, photo and art exhibits, sports events, and many more.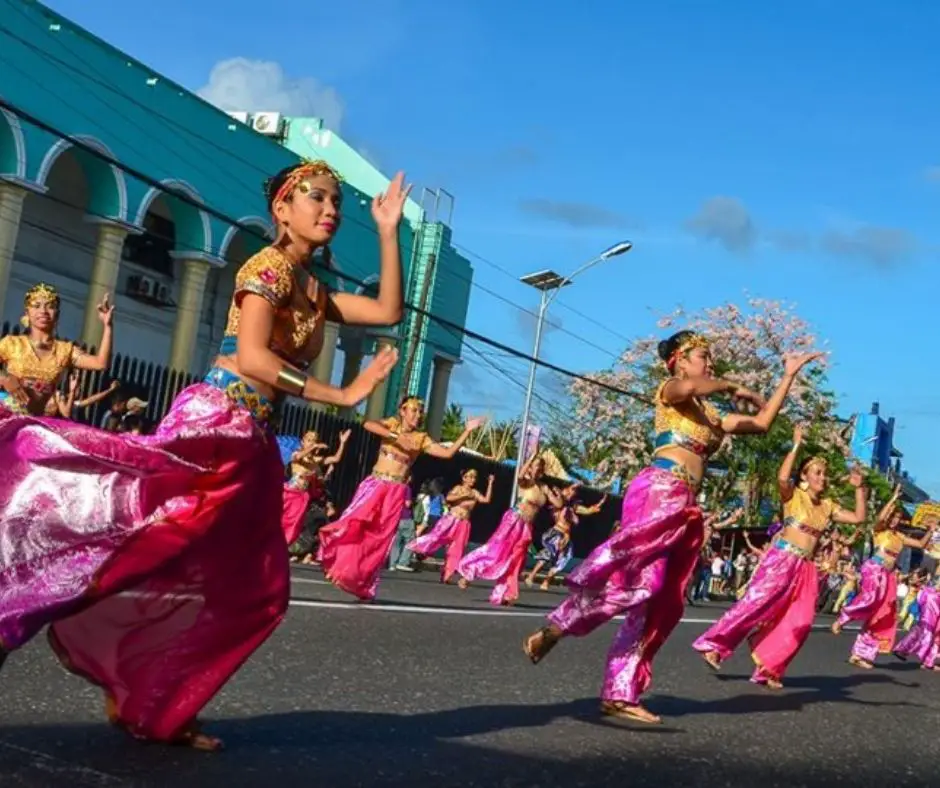 Lanahan Ritual
Balabag, Digos, Davao del Sur – May 1-3 
After their pilgrimage to Mount Apo, the Bagobos perform this ritual in which they make "lana" a medicinal oil.
Barangay Boat Festival
Aparri, Cagayan – May 11
This is an annual fluvial festival in honor of Saint Peter Thelmo, the town's patron saint.
Palong Festival
Capalonga, Camarines Norte – May 11-13
This festival is held in conjunction with the Black Nazarene Feast Day. The name of the festival is derived from an ornamental plant known as "rooster combs" or "palong manok," which is abundant in Capalonga. The celebration's highlights include street dancing and an agro-industrial fair.

Isla Rancho Festival
San Pascual, Masbate – May 12-17
A festival that depicts and reflects the place, people, and heritage of San Pascual, linking and tying up a semblance of inspiration and pride of the people of San Pascual working as one people towards community development.
Carabao Festival
Pulilan, Bulacan – May 15
The Carabao Festival is held in May and is dedicated to water buffalos. These animals are especially valued in the Philippines and are vital to all farmers. The water buffalo, also known as the carabao in local dialect, is the country's national animal. The festival falls on the feast day of San Isidro Labrador, or St. Isidore the Worker, the patron saint of farmers.
Butanding Festival
Donsol, Sorsogon – May 17-24
This festival, also known as the Butanding Arribada Festival, celebrates the return of Butandings, who usually flock to this time of year. A regatta, a fluvial parade with boats carrying colorful banners and giant images of butandings along the Donsol River, and a street parade with life-size images of butandings on floats accompanied by barangay delegations are now part of the festival. Popular activities include brass bands, drum and bugle corps, and street dancing.
Obando Festival
Obando, Bulacan – May 17-19
Obando hosts a three-day feast every year, attracting people from all over the country for Masses, long dancing processions through the streets, and frenzied devotion inside the church. Couples who visit the city have heard stories about people who struggled for years to have children and were finally able to do so after visiting or dancing in the feast. Couples hope for the same for themselves, or come as a panata, fulfilling a vow, to thank God for children they believe were born as a result of this intercession. Others come to Obando for a variety of reasons, but the fertility dance is the most well-known.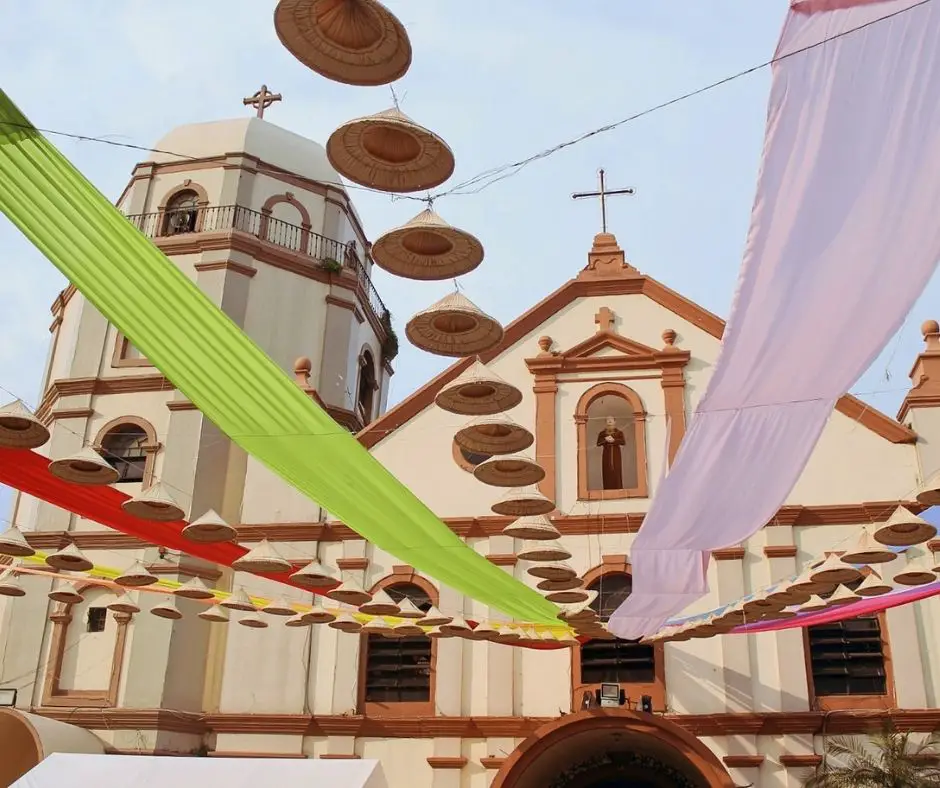 Pasa Pasa Festival
Monreal, Masbate – May 8-26
The festival, held in conjunction with the town fiesta, focuses on the local government's advocacy for the protection and preservation of its abundant natural resources, including manta rays, as well as the promotion of ecotourism attractions in the area.
Sarung Banggi Festival
Sto. Domingo, Albay – May 19 – 27

A festival to honor the composer, Potenciano V. Gregorio, and to immortalize the popular Bicol song Sarung Banggi.

Pahoy-Pahoy Festival
Calbiga, Samar – May 19-25
Calbiga's streets are filled with giant pahoy-pahoy or scarecrows made of indigenous materials. Musical instruments made of bamboo, cans, and stones produce sounds that frighten the local Maya birds.
DINENGDENG FESTIVAL
Agoo, La Union – Last week of April to 1st week o May
The Dinengdeng Festival is the official celebration of La Union's Agoo district. It honors the dish that inspired its name. One of the primary goals of the Dinengdeng Festival is to promote neighborhood tourism in the town, which is one of the district's established Spanish settlements. Dinengdeng is an Ilocano word that refers to any vegetable-based dish. Traditionally cooked in a "banga," a local term for a cooking earth pot used by relatives of early pioneers.
Boa-Boahan
Nabua. Camarines Sur – May 2
A festival is held on the second of May that is filled with colorful costumes and awe-inspiring performances from various barangays. The festival honors young coconuts and coincides with the town fiesta. It tells the story of how Nabua's first settlers survived and praised the pagan gods.

Kaogma Festival
Camarines Sur – May 21-27
The Kaogma Festival is a week-long colorful pageant. Cultural activities at the festival include expositions, sporting events, a beauty pageant, a singing competition, a processional grand parade, and street dance competitions. The goal of this series of events is to give Camsur talent, craftsmanship, and creativity an excellent opportunity and platform. Since 2017, the free festival has been held at the Pili Freedom Sports Complex in the last week of May for ten days, with live bands, celebrity guesting concerts, and carnival rides.
Lubi-Lubi Festival
Gingoog City – May 22
Sayaw "Lubi-Lubi" or coconut dance is an indigenous street parade that makes use of the city's abundant coco plants and materials. Every May, the Gingoognons celebrate peace, love, and unity to honor Sta. Rita de Cascia, the local patroness, on her annual feast day. It includes both rural and urban city barangays.
Layag Festival
Rapu-Rapu, Albay – May 22 – 27
A festival in the town of Rapu-Rapu in Albay province that coincides with the feast day of Our Lady of Peñafrancia. Layap means sail boat which is an old mode of transportation in Rapu-Rapu.
Abaca Festival
Catanduanes – May 27-31
Catanduanes is the country's largest producer of abaca fiber. This festival showcases this main product of the province.
Carabao-Carozza Race Festival
Pavia, Iloilo – May 3
The carabao, or water buffalo, has long been recognized as the Philippines' national animal. It is the Filipino farmer's companion when plowing their fields.  The industrialization has been prevalent over the years, causing most farmers to abandon their reliance on this animal. The celebration is Paviahon's way of paying tribute to the water buffalo, which are a fantastic and vital contributor to the area's farmers. The festival also aims to preserve the people's indigeneity and has been a means of saving the municipality of Pavia's remaining farmlands.
Tapusan Festival
Alitagtag, Batangas – Whole Month of May
Tapusan Festival is a Holy Cross celebration held in Alitatag, Batangas. The events include the laying of flowers before an old cross in the town church, as well as a colorful procession of the cross and other floats carrying other Marian images that are all lit and decorated with flowers.

P'gsalabuk Festival
Dipolog – 3rd Week of April to 4th Saturday of May
A festival that celebrates diversity. P'GSALABUK is a Subanen term that means "togetherness".
Balanghai Festival
Butuan – May
Butuan, Agusan del Norte, hosts the Balanghai Festival to commemorate what happened to the early transients who settled Butuan territory on board the Balangay boats. Numerous city-wide events take place, such as a city-wide craftsmanship show for nearby craftsmen, a few move troops participating in the Balanghai parade, and performing theater groups reenacting the landing of the Balangay ships from ious neighboring clans, as well as sensational reenactments of inborn question prompting the development of barangays.
Festivals by Month: JAN FEB MAR APR MAY JUN JUL AUG SEP OCT NOV DEC