The Philippines has a number of holidays throughout the year. There are several Philippine festivals in August, with the following being some of the more noteworthy.
Bankaton Festival
Lavezares, Northern Samar, August 20
The Bankaton Festival is a religious celebration held on August 20 in Lavezares, Northern Samar. It is an annual boat race to commemorate the feast of Nueva Seora de Salvacion, the patroness of the town. An event in honor of San Nicolas de Tolentino, the town's patron saint. It is a celebration that includes a men's boat race, a fluvial parade, parlor games based on tilapia cuisine, and an amateur singing competition.
Buyogan Festival
Abuyog, Leyte, August 19
The name "Buyogan" is derived from the name of the town Abuyog. The Buyogan parade, which is attended by various groups, is the highlight of the Buyogan Festival. Participants dress up in various colorful costumes patterned after the various shapes and colors of bee life. Children draw little bees buzzing around in a beehive replica. Other participants paint and henna tattoo tribal designs on their faces and bodies to represent the town's ethnic history.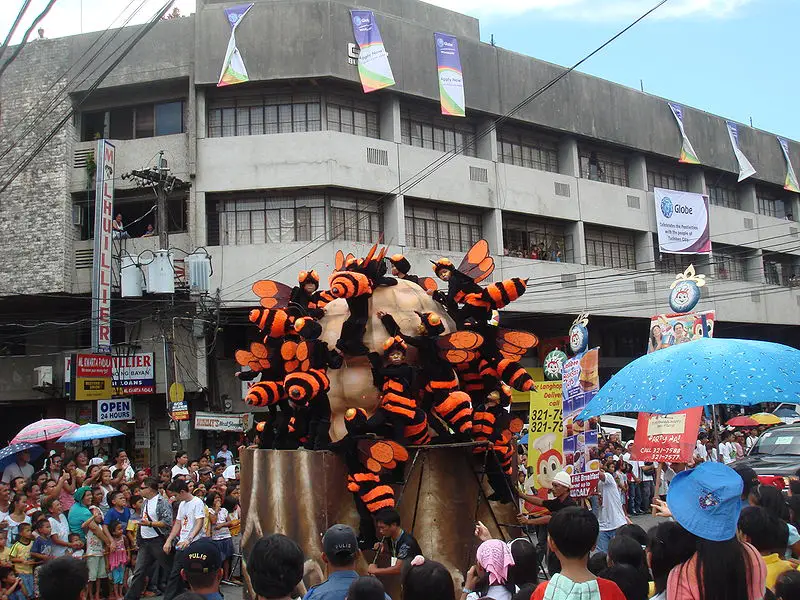 Coron Festival
Tiwi, Albay, August 5 – 13
Coron is a Bicol dialect that means "clay pot" or "potteries," which Tiwi, Albay is famous for. The festival's main attraction is the municipality's pottery industry, which is done with skills passed down from parents to children and perfected over many years of practice without the benefit of written manuals.
Gigantes Festival
Lucban, Quezon, August 19
The people of Lucban, Quezon, bring out their beloved gigantes, or giants, for this festival. The papier-mache giants are carried on the shoulders of those who have taken an oath in exchange for a favor. This festival is shared by Lucban and Angono, Rizal, which takes place in November.
Guinobatan Longganisa Festival
Guinobatan, Albay, August 5 – 15
The festival is held every August to coincide with the town fiesta as a form of thanksgiving for the bounty of the land. The festival's main attraction is a showcase of cuisines featuring their main product, the Guinobatan Longganisa.
Higalaay Festival
Cagayan de Oro City, Whole month of August
The Higalaay Festival is an annual festival held in Cagayan de Oro, Philippines, on the month of August to commemorate the feast day of St. Augustine, the city's patron saint. The term "Higalaay" is derived from the Cebuano word "higala," which refers to the city of Cagayan de Oro, also known as the City of Golden Friendship.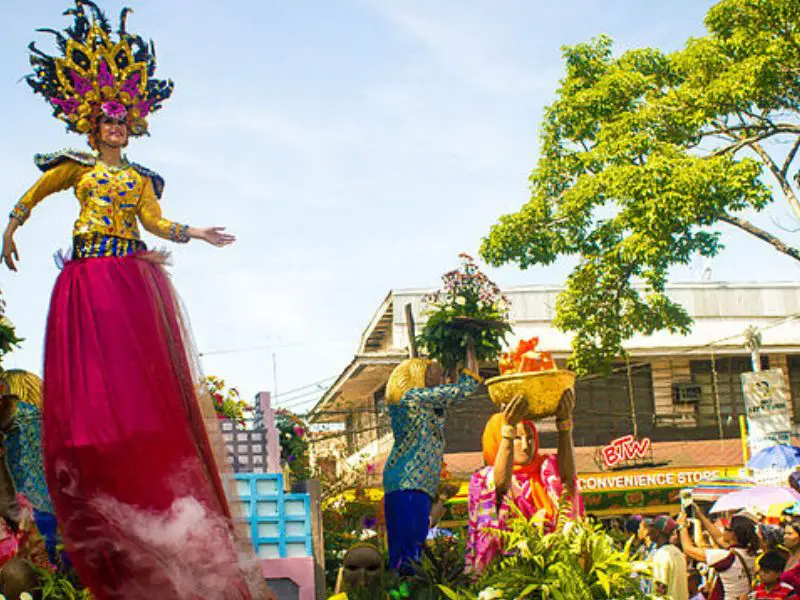 Ibalong Festival
Legaspi City, August 12 – 30
An annual festival dedicated to the legendary heroes of the Ibalong epic: Baltog, Handyong and Bantong. The three heroes fought against giant flying sharks, one-eyed creatures, gigantic crocodiles, and other such monsters.
Kadayawan sa Dabaw Festival
Davao City, 3rd week
The Kadayawan Festival is described as pasasalamat at pagpapahalaga. Kadayawan is a native expression in the Dabawnon language. Kadayawan derives its name from the word "madayaw," which means "good, valuable, and superior." The festival is a celebration of life, a thanksgiving for nature's gifts, cultural wealth, harvest bounty, and the serenity of living.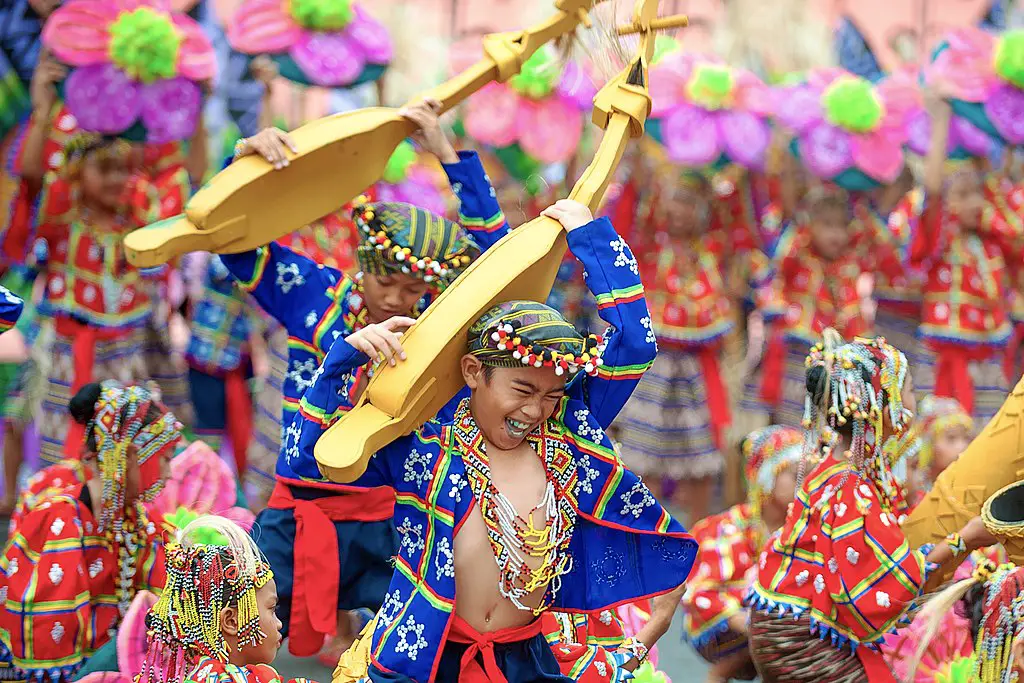 Kagayhaan Festival
Cagayan de Oro City, August 26-28
This festival is highlighted by street dancing performed by school and civic organization contingents.
Kalibongan Festival
Kidapawan, Cotabato, August 17 – 18
Kalibongan is a manobo term for the annual Grand Festival held in Kidapawan, Cotabato. Manobos, Bagobos, and other highland tribes from across the province travel to Kidapawan to proudly display their tradition and cultural heritage. The natives celebrate "partying" in their own way, with a traditional horse fight, a "blood compact" peace ceremony, and so on. For the Kalibongan festival, there is a large gathering of Mindanao's major tribal groups and thanksgiving, as well as a demonstration of horse fighting, street dances, and manobos marriages.
Marang Festival
Basco, Batanes, August 5
Locals celebrate the abundant harvest of the fruit Marang. During the festival, freshly harvested marang fruits, as well as other fruits and vegetables, are available at reduced prices.
Mercedes Fishtival
Mercedes, Camarines Norte, August 6-11
Mercedes Fishtival is held in the first week of August by the municipality of Mercedes, one of Camarines Norte's 12 towns. The week-long celebration includes a mascot parade of fish and other sea creatures. During this festive celebration, marine sports such as paraw regatta, bangkaton, and game fishing are played. The festival attracts both locals and visitors from other countries. In honor of their patron saint, St James the Fisherman, residents here recognize the blessings they receive, which include vast fish resources, endless shorelines, and aquatic potential.
Mercedes Kadagatan Festival
Mercedes, Camarines Norte, August 1 – 8
The Mercedes Kadagatan Festival is a fishermen's holiday celebration held every August in Mercedes, Camarines Norte, dedicated as an annual thanksgiving for the blessings and bounty received from the Almighty during seafaring, fishing expeditions, and fish farming endeavors. It is also a time for reflection and gratitude to Mother Nature for bestowing vast fishery resources, magnificent shorelines, and other aquatic potentials on Mercedes, as well as the wise utilization and preservation of ecological balance for the attainment of environmental dignity and beauty.
Palu-Palo Festival
Basco, Batanes, August 4-5
The Palu-palo festival is a cultural presentation of the municipality of Basco, Batanes, showcasing their ethnic group's rugged yet storied existence. Palu-palo refers to the sticks or arnis used by native Ivatans to defend themselves against colonial forces such as Spaniards and Dutch. Traditional suits made of indigenous materials such as flattened tree bark are worn by the natives.
Pangapog Festival
Samal Island, Davao, August 1 – 7
A thanksgiving celebration by the Sama people for a bountiful harvest. The Sama are the indigenous individuals of Samal.
Pangasinan Bamboo Festival
Calasiao and Sta. Barbara, Pangasinan, August 14
This is a festival that features bamboo planting and film screenings.
Pasaka Festival
Tanuan, Leyte, August 14
Pasaka Festival is a socio-cultural performance depicting a people paying homage to the town's Patroness, Our Lady of Assumption, as she is taken into Heaven. It is also an act of thanksgiving for the blessings received, as well as a way of welcoming visitors into the Tanauananons' homes.
Tig-Aw Festival
Tigaon, Camarines Sur, August 5 – 12
The Tig-Aw Festival is held in Tigaon, Camarines Sur, from August 5 to 12. This fiesta honors St. Clare of Assisi, the town's patroness. Every year, the streets of Tigaon are filled with colorful music as the streets are flooded with events such as the Ylau-Raya Grand Street Dancing Competition, Special Program in the Arts Dance and Musical Night, Tig-Aw Farmers' Festival, and many more.
---
Festivals by Month: JAN FEB MAR APR MAY JUN JUL AUG SEP OCT NOV DEC
---
Experience the ultimate thrill ride on the first Alpine Coaster in the Philippines. Twist and turn through hairpin curves and steep drops while enjoying breathtaking views of the surrounding landscape. This exhilarating adventure is perfect for thrill-seekers and nature lovers alike. Get ready to take on the challenge and ride the Philippines' first Alpine Coaster for a unique and unforgettable experience.

---