The Philippines has a number of holidays throughout the year. There are several Philippine festivals in July, with the following being some of the more noteworthy.

Grand Kaliga Festival
Gingoog City, July 23
A celebration in Gingoog City for the thanksgiving of the Higaonon. The Higaonon is one of the least known ethnolinguistic groups that inhabit North-Central Mindanao. Kaliga means thanksgiving for the abundance and prosperity received all year round.

Kahimoan Abayan Festival 
Butuan City, Agusan del Norte | Last week of July
A riverside celebration in Butuan City in honor of St. Anne, Patroness of Agusan River.

Kinabayo Festival
Dapitan City, Zamboanga del Norte | July 23 – 27
A celebration in Dapitan City in honor of its Patron St. James. It features a reenactment of the epic battle of Covadonga where the Spanish General Pelagio took his final stand against Sacaran.

Libon Paroy Festival
Libon, Albay | July 22 – 25
Katalingkasan, which means "freedom and rebirth," is held in conjunction with the Libon Town Fiesta and the feast of St. James the Greater, the town's patron saint. The festival aims to revitalize the town's rich cultural heritage while also promoting local tourism. It features a street parade, a sports festival, and a variety of other activities.

Magalleones Festival
Magallanes, Sorsogon | July 9 – 16
A festival in honor of the Municipality of Magallanes' Patron Saint, Our Lady of Mount Carmel. The festival's name is derived from galleon or sailing ship. The municipality is one of the shipbuilding capitals of the Bicol peninsula during the Spanish colonial period.

Pagoda Festival
Bocaue, Bulacan | July 4 – 7
Every first Sunday of July, the town of Bocaue in the province of Bulacan celebrates the Pagoda sa Wawa, a fluvial pagoda festival commemorating the discovery of the miraculous cross floating on the Bocaue river 200 years ago.

Sandugo Festival
Bohol | Last week of July
This festival honors the friendship treaty signed by Miguel Lopez de Legaspi and Datu Sikatuna, two people of different races and creeds. The expedition led by Captain General Miguel Lopez de Legaspi represented the King of Spain, and Datu Sikatuna was a native Boholano chieftain. An agro-industrial exhibit, a trade fair, a beauty pageant, street dancing, and a blood compact reenactment are all part of the festival.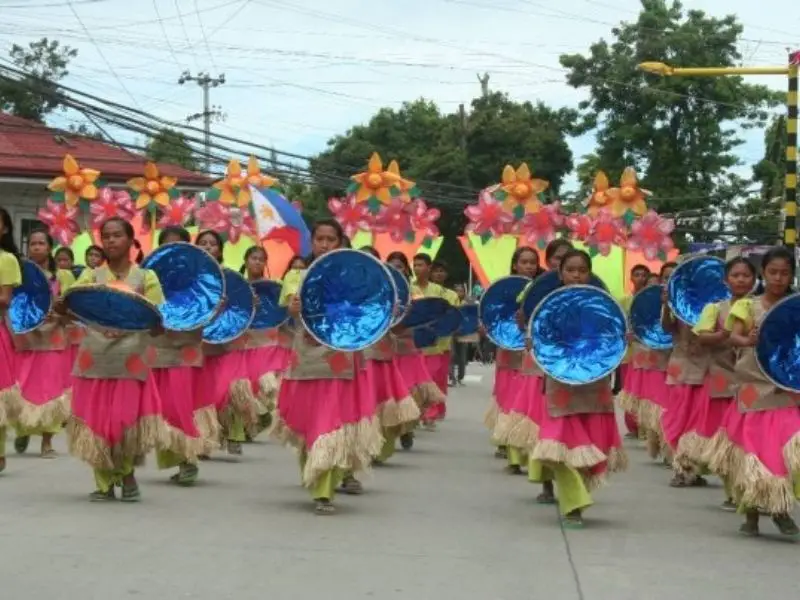 Spring Festival
Maramag, Bukidnon | July 1
Also known as the Kahalawan Te Sebseb Festival of Maramag. The festivity celebrates the bounty of springs or "tuburan" in the locality.

Subayan Keg Subanen Festival
Ozamiz City | July 16
A celebration to commemorate the anniversary of Ozamiz becoming a chartered city on July 16, 1948. This festival features the cultural values and traditions of the lumads or indigenous people known as the Subanon.

Sublian sa Batangas
Batangas City | July 23
A feast to revive the cultural and religious practice of subli among the Batagueños. Subli is a worship dance of the Holy Cross that has origins in the Catholic faith.
Festivals by Month: JAN FEB MAR APR MAY JUN JUL AUG SEP OCT NOV DEC