Introduction
When it comes to backpacking destinations, the Philippines stands out as a hidden gem in Southeast Asia. With its breathtaking landscapes, crystal-clear waters, vibrant culture, and warm-hearted locals, this archipelago of more than 7,000 islands offers an unparalleled adventure for backpackers. Whether you're seeking pristine beaches, lush mountains, or bustling cities steeped in history, the Philippines has it all.
What makes the Philippines truly unique is its diversity. Each island boasts its distinct charm and attractions.
From the bustling capital city of Manila to the stunning rice terraces of Banaue in Luzon Island; from the picture-perfect beaches of Boracay in Visayas Island to the adrenaline-pumping surf breaks of Siargao in Mindanao Island; there is something for every backpacker's taste.
This comprehensive guide aims to serve as an indispensable companion for backpackers venturing into this tropical paradise. With detailed information on visa requirements, transportation options, must-visit destinations, local customs and traditions, safety tips, and more – all meticulously curated to ensure a smooth and unforgettable journey.
Brief Overview of the Philippines as a Backpacking Destination
The Philippines is a country located in Southeast Asia known for its stunning natural beauty. It stretches over 1,800 kilometers from north to south and comprises three main geographical regions: Luzon in the north with Manila as its capital; Visayas at the heart with Cebu as one of its major hubs; and Mindanao in the south with Davao City being one of its key cities. This archipelago offers an array of experiences that cater to different interests.
Adventure seekers can hike through lush rainforests or dive into some of the world's most diverse marine ecosystems. History buffs can explore colonial-era architecture and archaeological sites that reflect the Philippines' rich cultural heritage.
Food enthusiasts can indulge in a variety of flavorful dishes, each region offering its culinary specialties. With a tropical climate, the Philippines boasts warm temperatures year-round, although there are distinct dry and wet seasons.
The dry season, from November to April, is generally considered the best time to visit as it offers optimal weather conditions for outdoor activities and beach hopping. However, even during the rainy season (May to October), there are still pockets of clear skies and sunny days.
Importance of Having a Comprehensive Guide for Backpackers
Having a comprehensive guide becomes paramount when embarking on a backpacking adventure in a foreign land like the Philippines. While serendipity is often part of the charm of backpacking, having essential information at hand can help maximize your experience while minimizing potential challenges or pitfalls. A comprehensive guide provides valuable insights into visa requirements and entry regulations specific to each nationality.
It also helps you navigate through transportation options within the country – be it flights between islands or navigating local public transportation systems like jeepneys or tricycles. Furthermore, this guide will shed light on must-visit destinations across Luzon, Visayas, and Mindanao Islands.
It will highlight lesser-known gems that might otherwise go unnoticed by travelers. Practical tips on budgeting, and accommodation options ranging from hostels to homestays and eco-friendly resorts will enhance your journey.
Last but not least, this guide will delve into cultural customs and traditions so that you can approach locals respectfully while embracing their way of life. Safety tips specific to certain areas or activities will also be covered so that you can enjoy your adventure with peace of mind.
Getting Started: Preparing for Your Trip
Visa Requirements and Entry Regulations
Traveling to the Philippines as a backpacker requires understanding the country's visa requirements and entry regulations. Most nationalities can enter the Philippines visa-free for 30 days, while others may be eligible for a visa on arrival.
However, it is crucial to check with your local embassy or consulate beforehand to ensure you meet all the necessary criteria. If you plan to stay longer than 30 days, you will need to apply for a tourist visa extension at the Bureau of Immigration in Manila or other major cities.
Best Time to Visit The Philippines Based on Weather and Festivals
The climate in the Philippines is characterized by two seasons: the dry season and the wet season. The dry season typically runs from November to April, making it an ideal time for backpackers to visit. During this period, you can expect clear skies, warm temperatures, and minimal rainfall across most parts of the country. However, it's important to note that some regions like Bicol and Eastern Visayas may experience occasional typhoons during these months.
In terms of festivals, backpackers should consider planning their trip around some of the most vibrant cultural celebrations in the Philippines.
For instance, Sinulog Festival in Cebu (January) showcases colorful street parades and lively dance performances honoring Santo Niño (Child Jesus). If you're interested in witnessing traditional Filipino customs and rituals blended with Christian traditions, attending Pahiyas Festival in Lucban (May) is highly recommended.
Vaccinations and Health Precautions
Before embarking on your adventure in the Philippines, it's essential to prioritize your health by obtaining the necessary vaccinations. Recommended vaccinations include Hepatitis A and B, typhoid fever, tetanus-diphtheria, and measles, mumps, and rubella (MMR).
Additionally, it's crucial to consult with a healthcare professional or visit a travel clinic to ensure you are up to date with routine vaccinations. In terms of health precautions, it is advisable to drink only bottled water or purified water throughout your trip to avoid contracting waterborne diseases.
Applying mosquito repellent frequently can help protect against dengue fever and other mosquito-borne illnesses. It's also wise to carry a basic first aid kit containing bandages, antiseptic cream, and any necessary prescription medications.
Remember that taking care of your health while traveling will allow you to fully enjoy your backpacking experience in the Philippines without any major disruptions. By understanding visa requirements, choosing the best time to visit based on weather and festivals, and taking appropriate health precautions, you'll be well-prepared for an unforgettable adventure in this tropical paradise.
Essential Travel Information
Currency, Exchange Rates, and Banking Facilities
When backpacking in the Philippines, it is crucial to have a clear understanding of the currency, exchange rates, and available banking facilities. The official currency of the country is the Philippine Peso (PHP). Foreign currencies are generally not accepted in most establishments, so it is advisable to exchange your money upon arrival at authorized exchange counters or banks.
Popular international currencies such as US dollars and Euros are widely accepted for exchange. The current exchange rate can fluctuate, so it is recommended to check with reliable sources or use currency converter apps to get accurate information before exchanging your money.
Major cities like Manila and Cebu have numerous banks and ATMs where you can withdraw cash using international debit or credit cards. However, when traveling to more remote areas or smaller islands, it is wise to carry enough cash since ATM availability may be limited.
Transportation Options within the Country
To navigate through the Philippines effectively as a backpacker, understanding the different transportation options available is essential. The country offers various means of transportation including air travel, land transportations such as buses and jeepneys (local public transport), as well as sea travel using ferries and boats.
Major Airports and Airlines Serving the Philippines
The Philippines has several major airports that serve both domestic and international flights. The Ninoy Aquino International Airport (NAIA) in Manila is the primary gateway for most travelers entering or departing from the country. Other significant airports include Mactan-Cebu International Airport in Cebu City, Clark International Airport in Angeles City Pampanga, and Davao International Airport in Davao City.
Airlines such as Philippine Airlines (PAL), Cebu Pacific Air (CEB), AirAsia Philippines (AAP), and other regional carriers operate domestic and international flights within the Philippines. It is advisable to book your flights in advance, especially during peak travel seasons, to secure the best fares.
Public Transportation (Jeepneys, Tricycles, Buses)
Public transportation in the Philippines can be an adventure in itself. Jeepneys are iconic vehicles that provide cheap and colorful rides around cities and towns.
They have unique designs and are often adorned with vibrant art and decorations. Tricycles, on the other hand, are a common mode of transport for short distances in urban centers or rural areas.
These motorcycles with attached sidecars can accommodate three to five passengers. Buses are also widely available for longer journeys between cities and provinces.
Both air-conditioned buses with comfortable seating and non-air-conditioned buses cater to different budgets. It is recommended to check bus schedules in advance as they may vary depending on destinations.
Ferries and Boats for Inter-island Travel
As an archipelago consisting of over 7,000 islands, traveling by ferry or boat is often necessary when exploring different regions of the Philippines. Ferries serve as a primary means of inter-island transportation, connecting major ports across different provinces.
Popular ferry routes include Manila to Batangas (for access to Mindoro Island), Cebu City to Bohol (for visiting Chocolate Hills), and Caticlan Port (for Boracay). Depending on the distance traveled, ferry trips can take anywhere from a couple of hours to an overnight journey.
Boat tours and island-hopping activities are also popular among backpackers who wish to explore pristine beaches or visit secluded islands such as El Nido in Palawan or Siargao Island in Surigao del Norte. Having a comprehensive understanding of essential travel information when backpacking through the Philippines ensures a smooth journey ahead.
Familiarize yourself with currency exchange rates, banking facilities, and the various transportation options available within the country. By being well-informed about major airports and airlines, public transportation modes like jeepneys, tricycles, and buses, as well as ferries and boats for inter-island travel, you'll be better equipped to navigate this beautiful archipelago with ease.
Luzon Island
Manila – bustling capital city with historical sites and vibrant nightlife
As the capital city of the Philippines, Manila is a fascinating blend of colorful history and modern dynamism. Backpackers will find themselves immersed in a city that offers a multitude of experiences.
Start your exploration in Intramuros, the walled historic center, where you can wander through Spanish-era streets lined with centuries-old buildings and visit iconic landmarks like Fort Santiago and San Agustin Church. For art enthusiasts, the National Museum houses an impressive collection of Filipino art and artifacts.
In the evening, Manila comes alive with its vibrant nightlife scene. From trendy rooftop bars to lively night markets, there is something for everyone.
Explore Poblacion, known as the hipster neighborhood filled with cool cafes, bars, and street art. For a taste of local entertainment, catch a performance at the Cultural Center of the Philippines or watch traditional folk dances at Casa Manila.
Banaue Rice Terraces – UNESCO World Heritage site famous for its stunning landscapes
A must-visit for nature enthusiasts and adventure seekers is the Banaue Rice Terraces. These magnificent terraces are often referred to as "The Eighth Wonder of the World" due to their awe-inspiring beauty. Carved into steep mountainsides by indigenous people over 2,000 years ago, these terraces showcase exceptional engineering skills.
Hiking through Banaue offers breathtaking views at every turn as you traverse narrow trails that wind through lush green rice paddies. The Batad Rice Terraces are particularly famous for their amphitheater-like appearance and offer a surreal backdrop for avid photographers. Sagada – a picturesque town known for its caves, waterfalls, and hanging coffins
Tucked away in the mountains of Luzon, Sagada is a serene and enchanting town that will captivate any adventurous backpacker. One of its main draws is the surreal Sumaguing Cave, where you can navigate through stunning limestone formations and underground rivers with the help of experienced local guides.
Sagada is also surrounded by beautiful waterfalls, such as Bomod-ok Falls and the towering Pongas Falls. Hiking enthusiasts will enjoy exploring Echo Valley and witnessing the famous hanging coffins, an ancient burial tradition unique to this area.
Visayas Islands
Cebu – gateway to stunning beaches like Malapascua Island & Moalboal's Sardine Run
Cebu, known as the "Queen City of the South," offers an ideal starting point for exploring the Visayas Islands. It boasts breathtaking beaches and a vibrant underwater world. For beach lovers, Malapascua Island is a paradise with its white sandy shores and crystal-clear waters perfect for snorkeling and diving.
In Moalboal, don't miss out on witnessing the mesmerizing sardine run—a natural phenomenon where thousands of sardines move in synchronized patterns. The sheer spectacle of this underwater ballet is truly unforgettable.
Boracay – renowned white sand beaches & vibrant nightlife scene
Boracay needs no introduction—it has long been recognized as one of Asia's top beach destinations. Famous for its powdery white sand beaches lapped by turquoise waters, Boracay has a range of activities to offer backpackers. From adrenaline-pumping water sports like kiteboarding and parasailing to serene sunset cruises along its coastline, there's something for every traveler.
When night falls, Boracay transforms into a pulsating hub of nightlife. D'Mall is the center of activity, lined with restaurants, bars, and clubs where you can dance the night away under the stars.
Panglao Island – home to beautiful Alona Beach & world-class diving spots
Nestled in the heart of Bohol, Panglao Island is a tropical paradise known for its pristine beaches and vibrant marine life. Alona Beach, with its powdery white sand and crystal-clear waters, offers an idyllic escape for sun-seekers and beach lovers.
Panglao Island also boasts world-class diving spots like Balicasag Island Marine Sanctuary and Pamilacan Island. Dive into its colorful underwater realm teeming with coral reefs, turtles, and various species of fish.
Mindanao Island
Davao City – a bustling metropolis with Mount Apo nearby for hiking enthusiasts
Davao City is a modern metropolis in Mindanao that provides an excellent gateway to explore the natural wonders of the island. For adventurous backpackers, a trek to Mount Apo should be on your bucket list. As the highest peak in the Philippines, it offers challenging but rewarding hikes through lush rainforests and surreal landscapes.
In Davao City itself, visit People's Park—a beautifully landscaped urban park showcasing indigenous sculptures and vibrant flora. Don't miss out on trying durian—the city's iconic fruit known for its strong odor but delicious taste.
Siargao Island – surfing paradise with Cloud Nine as its famous surf break
Siargao has gained international recognition as one of the best surfing destinations in Asia. Its most famous surf break is Cloud Nine—an impressive reef break that attracts surfers from all over the globe.
Whether you're a seasoned pro or a beginner, Siargao offers waves for everyone. Aside from surfing, Siargao's island charm extends to its pristine beaches, such as Magpupungko Beach with its natural tidal pools, and Guyam Island—a picture-perfect tropical paradise.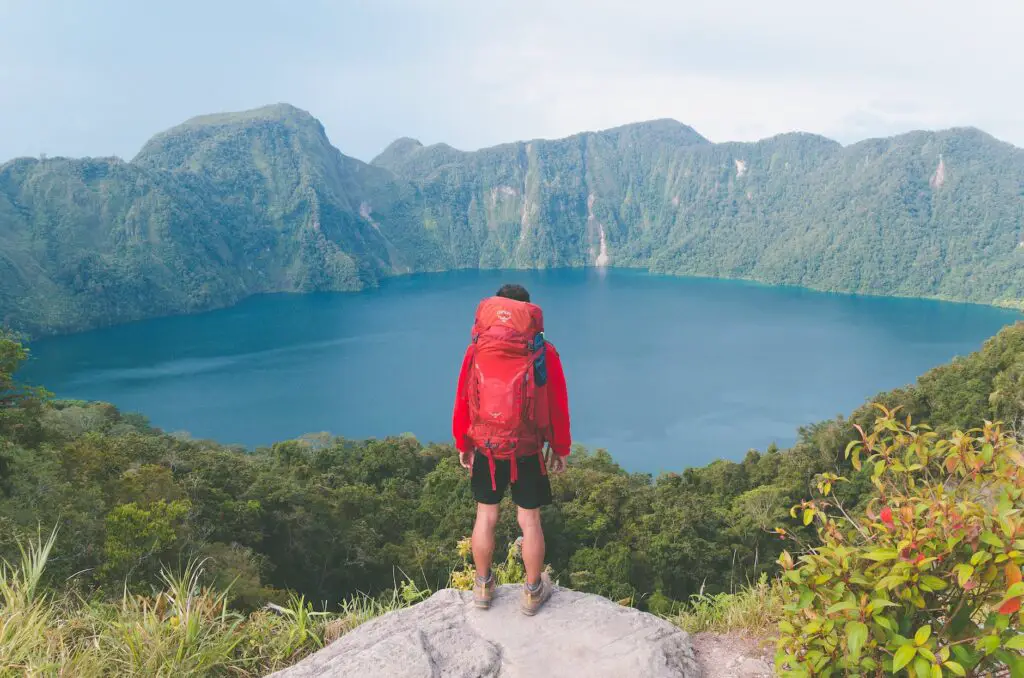 Conclusion
The Philippines offers an unparalleled backpacking experience with its diverse islands and rich cultural heritage. From the bustling capital of Manila to the picturesque towns of Banaue and Sagada in Luzon, backpackers can immerse themselves in history and natural beauty. The Visayas Islands provide stunning beach destinations like Cebu, Boracay, and Panglao Island, where visitors can indulge in water sports and vibrant nightlife.
Meanwhile, Mindanao Island beckons adventurers to explore Davao City's urban attractions and conquer Mount Apo before riding the waves at Siargao Island. With each destination offering unique experiences, backpackers will find themselves spoilt for choice in this tropical paradise.
Embrace the warmth of Filipino hospitality as you uncover hidden gems and create unforgettable memories amidst breathtaking landscapes. The Philippines truly has something for every adventurous soul.
---