Discover the natural beauty of Tinipak River in Rizal, Philippines. Immerse yourself in crystal-clear waters, and lush greenery. Experience breathtaking sights of beautiful rock formations, and natural pools. Join us and create unforgettable memories today.
ABOUT TINIPAK RIVER
Tinipak or Agos River is a river that flows from Tanay, Rizal to General Nakar, Quezon Province. It is found throughout the Sierra Madre mountain ranges.
The word "Tinipak," which gives the name to the river, literally means "to cleave" or "to split," which appropriately captures the imposing limestone structures that border the river's banks.
Tinipak River's amazing beauty makes for the ideal photographic backdrop, making a popular destination for tourists seeking to record unforgettable moments. Tinipak River is the perfect getaway from the bustle of the city because of its serene surroundings.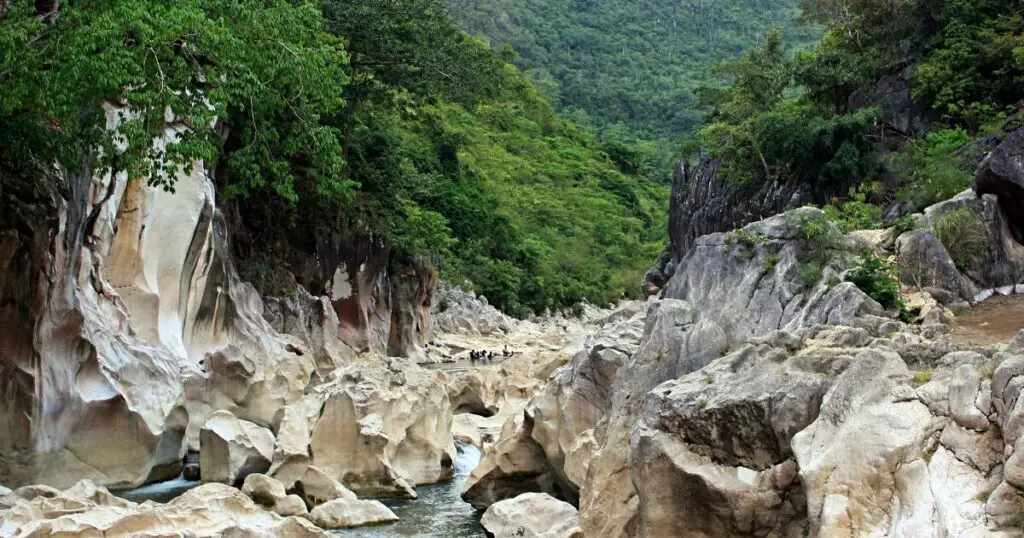 Find Hotels Near Tinipak River
THE BEST TOURIST DESTINATIONS IN THE PHILIPPINES
Explore the Best of Philippines: Must-See Tourist Destinations
The Philippines is a stunning cluster of islands brimming with breathtaking natural wonders and cultural treasures. With over 7,000 islands, the country offers a diverse range of destinations to explore, from bustling urban centers to tranquil shorelines, and historical landmarks to breathtaking terrains. The Philippines caters to every traveler's needs, whether it's seeking an adventurous escapade, unwinding on a serene beach, or delving into cultural experiences. This guide presents a curated list of must-see tourist destinations in the Philippines, each of which offers a distinct and charming experience. So, prepare to embark on an adventure to discover the best of the Philippines.
Discover the top places to visit in the Philippines this May! From white sand beaches to cultural sites and adventure destinations, find your perfect getaway.

---
Discover the top affordable beach resorts in Subic. Enjoy your budget-friendly beach getaway with these tips and recommendations. Read more now!

---

Discover the best travel agencies in the Philippines for a stress-free and unforgettable vacation. From big players to hidden gems, find your perfect match today!

---

Search for the best hotels using this comprehensive list of DOT-accredited hotels in Baguio.

---

Cebu Pacific Piso Fare Promo is a special offer that allows travelers to book flights at incredibly low prices. With this promotion, customers can save money while still enjoying a…

---

Looking for the best travel agencies in Manila? Our comprehensive list features only DOT-accredited agencies, ensuring you'll receive top-quality service and have a stress-free vacation. Let us guide you to the perfect agency for your needs and plan the trip of a lifetime to this vibrant city.

---

Experience the ultimate travel adventure with PAL's EPIC SALE! Discover unbeatable deals on luxurious escapes and exciting destinations, and elevate your travel experience to new heights.

---

Unlock your potential and unleash your entrepreneurial spirit with these 100 powerful business ideas to start in the Philippines this 2023. From online tutoring to personalized jewelry stores, fuel your passion and ignite your success with these uncommon and emotionally impactful business ventures. Discover your path to financial freedom and build your dream business today.

---

This page contains links to the most recent Cebu Pacific promotions for the years 2022-2023. Cebu Pacific is a leading airline in Southeast Asia, serving more than 60 destinations throughout the region. By providing high-quality, low-cost air travel, it has grown to become a major player in the aviation industry.

---

Learn about the departure schedules from PITX to Baguio and vice versa, and eveything you need to know about P2P, PITX and Solid North Transit.

---

Discover the hidden treasures of Baguio with our comprehensive guide to the complete list of DOT-accredited travel agencies in the city. Find the most reputable and trustworthy travel agencies in Baguio that offer exceptional services and unforgettable experiences for your next adventure.

---

Booking hotels via a mobile app is now preferred due to its convenience and well-organized structure. Many hotels and even smaller accommodations in the Philippines have partnered with popular hotel…

---

Find DOT Accredited Travel Agencies in Davao. Search by name, city, province, or region. the Purpose of DOT Accreditation The purpose of accreditation is to guarantee that the agency meets…

---

Plan a stress-free holiday! This is a list of accredited travel agencies in Cebu by DOT or the Department of Tourism in the Philippines. The Difference between Tour Operators and…

---