If you like coffee, you've probably been to Starbucks at least once in your life. The coffee giant's trademark green and white emblem has become synonymous with high-quality coffee and a welcoming atmosphere. What distinguishes Starbucks from its competitors, however, is its dedication to convenience. The company has been expanding its 24-hour facilities to meet the needs of customers who need a caffeine fix after regular business hours. This article will take a look at Starbucks' 24-hour outlets in the Philippines.
FIND 24-HOUR STARBUCKS NEAR YOU
We highly recommend visiting Starbucks' official website for the most accurate and up-to-date information on their 24-hour locations and working hours. To find the nearest 24-hour coffee shop, use the Starbucks Philippines store locator by clicking the button below. You can refine your search to just show branches that are open 24 hours a day.
List of Starbucks 24-hour Locations
We've created a comprehensive list of Starbucks' 24-hour locations in the Philippines particularly in BGC Taguig, Makati, QC, Pasay, Manila, Pampanga, and Bulacan to make your search easier. Check out the list below to discover the closest 24-hour coffee shop to quench your needs at any time of day or night.
1. Starbucks 32nd and 7th Avenue
Address: 32nd St. corner 7th St., Bonifacio Global City, Taguig City
2. Starbucks Park West Residences
Address: 7th Ave. corner 36th St., Grand Central Park, Bonifacio Global City, Taguig City
3. Starbucks SMDC Grace Residences
Address: Grace Mall, Levi Mariano Blvd., Brgy. Ususan, Taguig City
4. Starbucks Paseo de Magallanes Drive-thru
Address: Paseo de Magallanes Commercial Center, South Luzon Expressway, Makati City
5. Starbucks Signa Designer Residences − Makati
Address: Signa Designer Residences, Tower 1 cor Valero & Rufino St., Makati City
6. Starbucks The Columns
Address: Tower 3, Ayala Ave. corner Gil Puyat Ave., Makati City
7. Starbucks 9 Macapagal Boulevard
Address: #9 Macapagal Blvd. near corner Brandco Ave., Paranaque City
8. Starbucks Avenue Square Garden
Address: Unit 602, Avenue Square Garden, UN Ave. corner J. Bocobo St., Ermita, Manila
9. Starbucks D Students Place
Address: D' Students' Place Bldg., Taft Ave. corner Estrada St., Malate, Manila
10. Starbucks Cyberpark Tower 1
Address: G/F Cyberpark Tower 1, G. McArthur Corner Aguinaldo, Araneta Center, Quezon City
11. Starbucks Metrowalk
Address: Metrowalk Mall, Meralco Ave. near corner Ortigas Ave., Pasig City
12. Starbucks 3786 MacArthur Highway Sindalan
Address: 3786 MacArthur Highway, Sindalan, City of San Fernando, Pampanga
13. Starbucks 9036 Bypass Road Sta. Maria Bulacan
Address: 9036 Bypass Road, Sta Clara, Sta Maria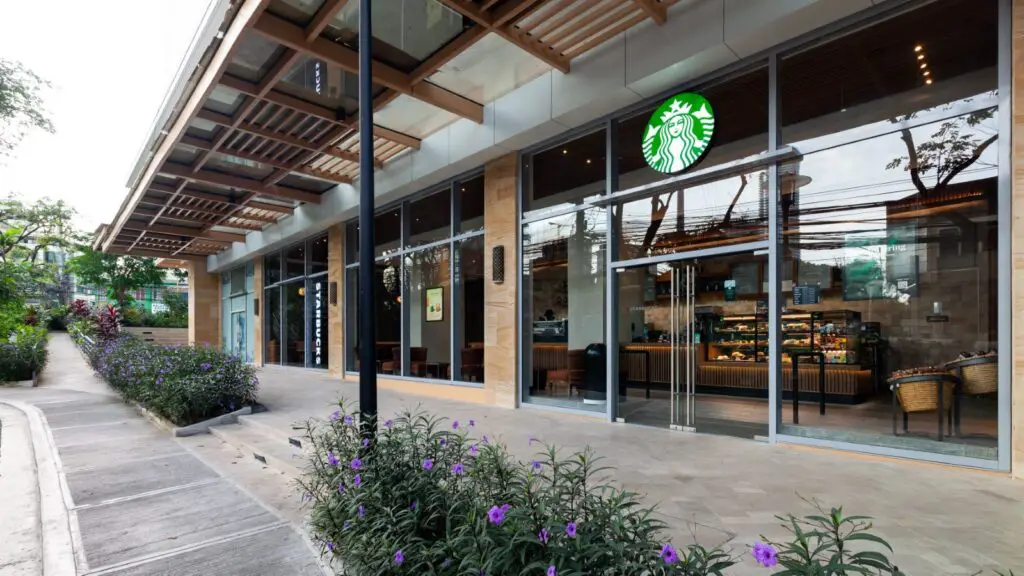 You may easily discover a coffee shop that meets your needs at any hour thanks to our directory of 24-hour Starbucks locations in the Philippines. Whether you're in Makati, BGC, QC, or Pasay, there's a Starbucks nearby that's open 24 hours a day. Don't forget to visit the official Starbucks Philippines website for the most up-to-date store locators and working hours. So keep this list close at hand and you'll never be without your caffeine fix again!
---
RELATED POSTS
Indulge in a delectable adventure as we explore the tantalizing Popeyes menu in the Philippines, featuring signature dishes and exclusive specialties.

---
RELATED POSTS
Discover mouthwatering deals! Enjoy Foodpanda Philippines' September 2023 discounts and promos. Savor the savings today!

---

Indulge in a delectable adventure as we explore the tantalizing Popeyes menu in the Philippines, featuring signature dishes and exclusive specialties.

---

Discover the savory delights of Din Tai Fung Philippines: Locations, Menu, and more! Embark on a gastronomic adventure like no other.

---

Embark on a gastronomic journey within the historical walls of Intramuros, Manila. Uncover the best restaurants and their delectable delights.

---

Indulge in the delectable world of Philippine polvoron. Discover its origins, flavors, and cultural significance. A must-read for food enthusiasts!

---

Indulge in the delightful world of Filipino kakanin with these 10 easy-to-make recipes. Explore the rich flavors and cultural significance.

---

Embark on a flavorful journey through Philippine cuisine, savoring local delicacies from Luzon to Mindanao. Indulge in street food wonders and sweet treats!

---

Discover the best food spots in Maginhawa! From popular spots to hidden gems, vegan options to late-night eats, we've got you covered.

---

Discover the best Bonifacio High Street restaurants in BGC. From international cuisine to hidden gems, find your next dining destination here.

---

Do you need coffee at any time of day or night? Check out our list of Starbucks locations in the Philippines that are open 24 hours a day. Find a 24-hour coffee shop to keep you energized around the clock.

---