The Philippines has a number of holidays throughout the year. There are several Philippine festivals in April with the following being some of the more noteworthy.
LIST OF FESTIVALS IN THE PHILIPPINES IN APRIL
Alinao Festival
Bantayog Festival
Centurion Festival
Hugyaw Sa Kadagatan
Isla Carahan Festival
Kadaugan sa Mactan
Lami-Lamihan Festival
Mananap Festival
Moriones Festival
Panaad
Rodeo Festival
Sakayan Festival
Turumba
Dinengdeng Festival
PHILIPPINE FESTIVALS IN APRIL
Alinao Festival
Malinao, Albay
A tribute to the lost tree of Alinao on the mountains of Malinao. The festival celebrates Mainaonon customs, traditions, and cultural arts, with the Street Dancing Competition serving as a highlight.
Bantayog Festival
Camarines Norte
This festival is celebrated to pay tribute to the Philippines' National Hero Dr. Jose Rizal. Bantayog means monument. The first monument of Rizal can be found in Daet in Camarines Norte.
Centurion Festival
General Luna, Quezon
This colorful festival is thought to be the origin of Marinduque's Moriones Festival.
Hugyaw Sa Kadagatan
Kauswagan, Lanao del Norte
Hugyaw sa Kadagatan, or Sea Dancing Festival, is held in Kauswagan Municipality every April as a local thanksgiving to God for the year's abundant sea harvest. The abundance of coastal resources, such as fresh fish and shells, has sparked the interest of Kauswagan residents in the food, shell craft, and other industries.
Hugyaw is a Bisayan word for "roar," and Kadagatan is a Bisayan word for "sea."
Isla Carahan Festival
Caramoan, Camarines Sur
A celebration of the beauty and bounty of Caramoan Island, highlighting its industry and cultural heritage.
Kadaugan sa Mactan
The festival is held to commemorate the Lapu-Lapu chieftain and his triumph over Magellan in the 16th century. The battle, one of the Philippines' historical events, is re-enacted at the original fighting site, the Beach of Barangay in Lapu-Lapu City. Actors and actresses play the historical figures, and canoes leading a procession to the beach represent Magellan's ships.
Lami-Lamihan Festival
Basilan
The Lami-Lamihan Festival of Lamitan in Basilan is a celebration of the Yakan tribe's rich culture and a way to promote cultural harmony among the area's Yakan, Tausug, Muslim, and Christian communities.
Mananap Festival
San Vicente, Camarines Norte
A festival that promotes local culture and tourism in the municipality of San Vicente.
Moriones Festival
Marinduque
This festival is held during Holy Week. Moriones is a costume worn to reenact the story of Longhinus. Longihus who was nearly blind was healed when some of the blood and water from Jesus fell into his eyes. It was then he started to believe in Jesus and actually started to tell people about what had happened.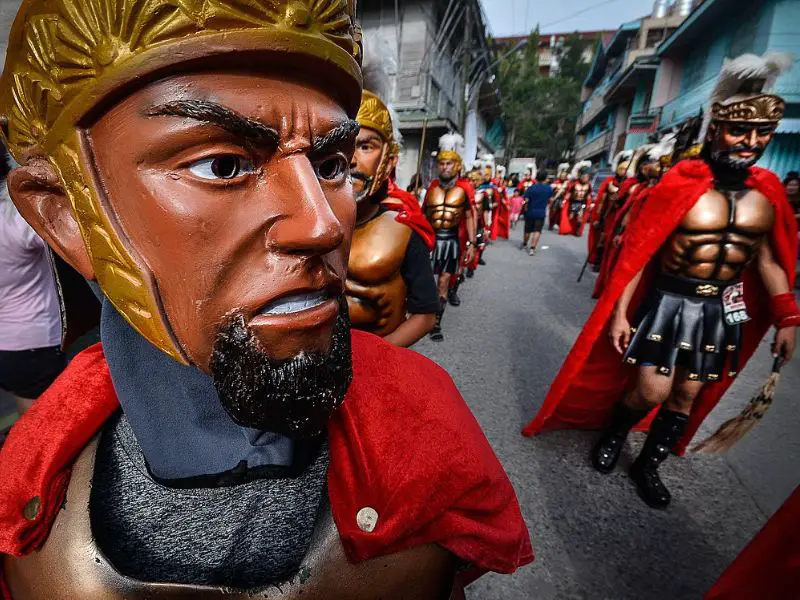 Panaad
Camiguin Island
During Holy Week, pilgrims flock to Camiguin Island to hike the island's 64-kilometer circumferential road as a form of sacrifice, either to fulfill a vow or to atone for sins. Masses, Catholic rites and rituals, and Stations of the Cross on Old Vulcan hill are among the regular activities during this season.

Rodeo Festival
Masbate
An annual event that showcases the castle and livestock industry in Masbate. Masbate turns into a "cowboy country" during this festival
Sakayan Festival
Isabela City, Basilan
A parade of lavishly decorated Sakayan. Sakayan is a small boat used for fishing and transportation of goods. Fishing is one of the primary sources of livelihood in Isabela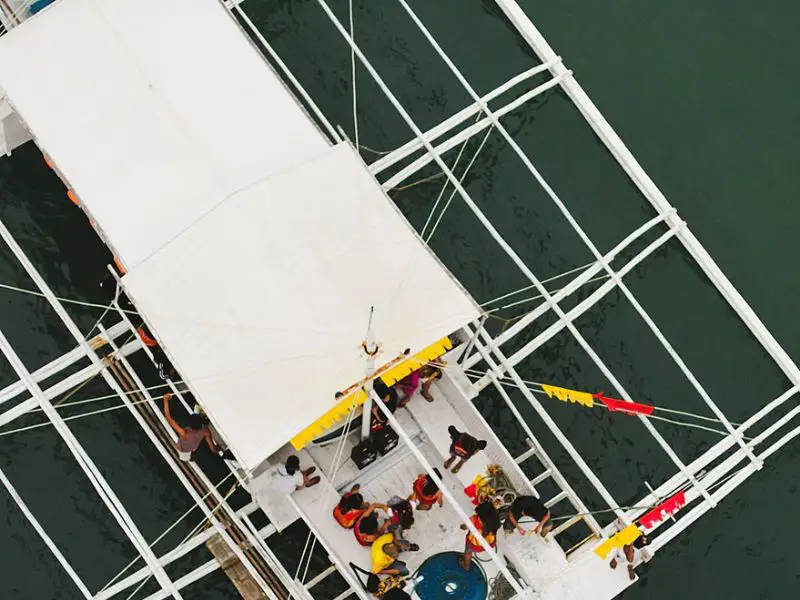 Turumba
Pakil, Laguna
This is a seven-day celebration in honor of Our Lady of Sorrows that includes a procession and a dance to the beat of a turumba song.
DINENGDENG FESTIVAL
Agoo, La Union – Last week of April to 1st week o May
The Dinengdeng Festival is the official celebration of La Union's Agoo district. It honors the dish that inspired its name. One of the primary goals of the Dinengdeng Festival is to promote neighborhood tourism in the town, which is one of the district's established Spanish settlements. Dinengdeng is an Ilocano word that refers to any vegetable-based dish. Traditionally cooked in a "Banga," a local term for a cooking earth pot used by relatives of
---
Philippine Festivals by Month: JAN FEB MAR APR MAY JUN JUL AUG SEP OCT NOV DEC