Discover Seven Seas Waterpark, the ultimate fun destination. Get ready to unleash your inner kid at the ultimate waterpark in Misamis Oriental. The entrance fees are affordable for both adults and children, with a lot of family-friendly rides and activities.
About Seven Seas Waterpark and Resort
Seven Seas Waterpark is the Philippines' first world-class pirate-themed waterpark. The waterpark, which opened in November 2017, features over 12 thrilling slides, a 5,000 square meter twin wave pool, a 400-meter-long lazy river, and many more family-friendly activities and services.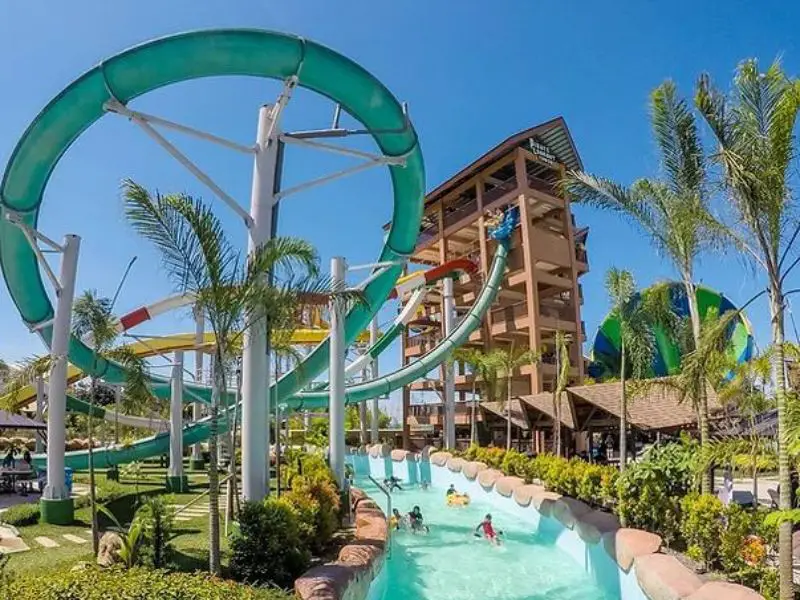 Location
Zone 1, Road, Opol, 9016 Misamis Oriental, Philippines
ENTRANCE FEE
ADULT: ₱999 – Weekend (Fridays, Saturdays, Sundays & Public Holidays)
ADULT: ₱799 – Weekday (Wednesday, Thursdays)
KID: ₱599 – Weekend (Fridays, Saturdays, Sundays & Public Holidays)
KID: ₱499 – Weekday (Wednesday, Thursdays)
Senior Citizens & PWD: ₱599 – Weekend (Fridays, Saturdays, Sundays & Public Holidays)
Senior Citizens & PWD: ₱499 – Weekday: (Wednesday, Thursdays)
ATTRACTIONS
The primary goal of Seven Seas Waterpark and Resort is to ensure that visitors have the time of their lives. It provides enjoyable activities for visitors of all ages. The slides are enough to bring out your inner child and ensure an unforgettable experience. The Seven Seas Waterpark and Resort's attractions are listed below.
Plank Drop
The "Plank Drop" is the country's first vertical aqua loop water slide, with riders launched from a transparent capsule-like cylinder from a height of 20 meters. This ride is not for the faint of heart, but it provides riders and spectators with total exhilaration because you can see through the semi-translucent fiberglass tube.

Captain Kidd's Hideout
The Captain Kidd's Hideout kiddie pool and slides and the "Pirates of the Caribbean" aqua playhouse are designed for children and adults who want to have safe, clean fun in a shallow rubber-lined pool.

Pacific Racer
The Pacific Racer is a three-tube speed challenge slide in which participants race each other using special rubber mats as they launch from a height of 15 meters into claustrophobic spiral tubes leading to a high-speed exit 100 meters away.

Mighty Maui River
The Mighty Maui River is the Philippines' longest lazy river, stretching 400 meters (1,312 feet). A powerful wave generator also provides an exciting ride for people on inflatables as they snake through islands, low-hanging bridges, and Fort San Agustin's tunnel moat.

Pira-Chute
The Pira-Chute is an open spiral slide with at least two rotations before landing in a spray of water and foam.

Riptide Reef
The Riptide Reef boomerang slide features slips and turns for two riders on a special two-hole inflatable raft before sliding vertically into the bottom of a sheer wall. As the raft reverses direction and exits the landing pool, it experiences an extended free fall.

Cyclone
The Cyclone is the Philippines' largest water slide! It's a massive conical steel fiberglass structure 20 meters in diameter that can hold a four-person raft that drops from a six-story launch tube. As the raft swings on the funnel walls, riders experience near-vertical spins and wallops.

Buccaneer Bay
At nearly 5000 square meters, the Buccaneer Bay dual wave pool, one of the Philippines' largest, offers families a distinct area where waves can range from 0.50 to 1.0meter height, and a separate venue for the brave boogie boarders more powerful tsunami waves at 1 to 1.5meter height, which can be programmed for would-be surfers wanting to learn the basics.

Seven Seas Waterpark Ticket
The Philippines' largest pirate-themed waterpark awaits you with a world of fun and adventure! Swim in the largest dual wave pool in the country or ride one of the park's eight thrilling waterslides! Scream with delight as you ride adrenaline-pumping attractions like the Cyclone, Riptide, and Plank Drop. This swashbuckler's paradise is ideal for those looking for a day out of the sun.
Find Hotels Near Seven Seas Waterpark
IMPORTANT INFORMATION
Always keep an eye on children.
All park rules posted inside the waterpark must be followed.
Attractions in the waterpark have height and weight requirements for your safety.
Attractions may be suspended at any time without notice.
Outside food and beverages are not permitted.
Neither alcoholic beverages nor smoking are permitted.
Pets are not permitted.
Swimwear must be worn at all times. Some attractions will not be accessible to guests who have not dressed appropriately for swimming.
Lockers can be rented for your convenience.
---
The Best Places to Visit Places in the Philippines
Experience the ultimate thrill ride on the first Alpine Coaster in the Philippines. Twist and turn through hairpin curves and steep drops while enjoying breathtaking views of the surrounding landscape. This exhilarating adventure is perfect for thrill-seekers and nature lovers alike. Get ready to take on the challenge and ride the Philippines' first Alpine Coaster for a unique and unforgettable experience.

---
Looking for the best travel agencies in Manila? Our comprehensive list features only DOT-accredited agencies, ensuring you'll receive top-quality service and have a stress-free vacation. Let us guide you to the perfect agency for your needs and plan the trip of a lifetime to this vibrant city.

---