Seven Seas Waterpark is a renowned aquatic-themed venue in Barra, Opol, Misamis Oriental, Philippines. It is a popular tourist destination with a wide range of exciting experiences and attractions for guests of all ages. This comprehensive guide provides you with important information about the admission fee, opening hours, top attractions, and Seven Seas Waterpark regulations. Use this guide to learn about the diverse offerings of this thrilling waterpark.
About Seven Seas Waterpark and Resort
Seven Seas Waterpark is the Philippines' first world-class pirate-themed waterpark. The waterpark, which opened in November 2017, features over 12 thrilling slides, a 5,000 square meter twin wave pool, a 400-meter-long lazy river, and many more family-friendly activities and services.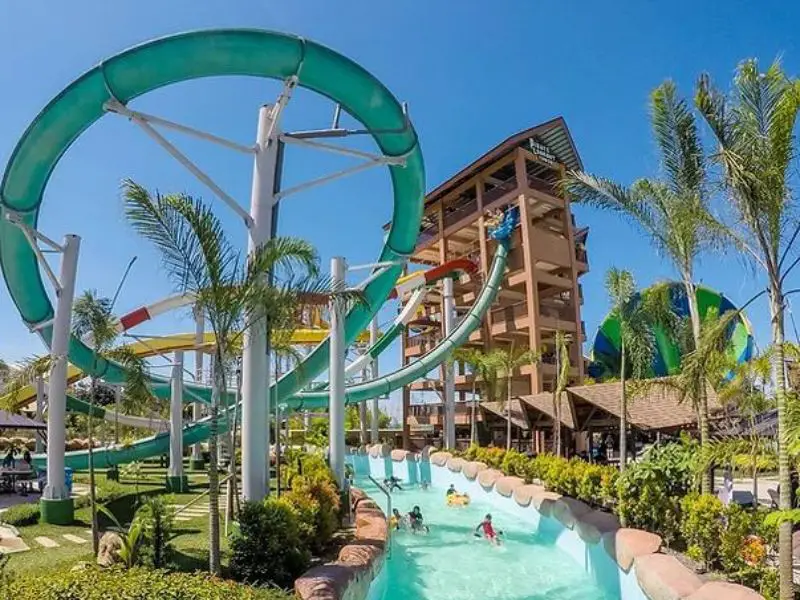 Location
Zone 1, Road, Opol, 9016 Misamis Oriental, Philippines
ENTRANCE FEE
ADULT: ₱999 – Weekend (Fridays, Saturdays, Sundays & Public Holidays)
ADULT: ₱799 – Weekday (Wednesday, Thursday)
KID: ₱599 – Weekend (Fridays, Saturdays, Sundays & Public Holidays)
KID: ₱499 – Weekday (Wednesday, Thursday)
Senior Citizens & PWD: ₱599 – Weekend (Fridays, Saturdays, Sundays & Public Holidays)
Senior Citizens & PWD: ₱499 – Weekday: (Wednesday, Thursdays)
ATTRACTIONS
The primary goal of Seven Seas Waterpark and Resort is to ensure that visitors have the time of their lives. It provides enjoyable activities for visitors of all ages. The slides are enough to bring out your inner child and ensure an unforgettable experience. The Seven Seas Waterpark and Resort's attractions are listed below.
Plank Drop
The "Plank Drop" is the country's first vertical aqua loop water slide, with riders launched from a transparent capsule-like cylinder from a height of 20 meters. This ride is not for the faint of heart, but it provides riders and spectators with total exhilaration because you can see through the semi-translucent fiberglass tube.

Captain Kidd's Hideout
The Captain Kidd's Hideout kiddie pool and slides and the "Pirates of the Caribbean" aqua playhouse are designed for children and adults who want to have safe, clean fun in a shallow rubber-lined pool.

Pacific Racer
The Pacific Racer is a three-tube speed challenge slide in which participants race each other using special rubber mats as they launch from a height of 15 meters into claustrophobic spiral tubes leading to a high-speed exit 100 meters away.

Mighty Maui River
The Mighty Maui River is the Philippines' longest lazy river, stretching 400 meters (1,312 feet). A powerful wave generator also provides an exciting ride for people on inflatables as they snake through islands, low-hanging bridges, and Fort San Agustin's tunnel moat.

Pira-Chute
The Pira-Chute is an open spiral slide with at least two rotations before landing in a spray of water and foam.

Riptide Reef
The Riptide Reef boomerang slide features slip and turns for two riders on a special two-hole inflatable raft before sliding vertically into the bottom of a sheer wall. As the raft reverses direction and exits the landing pool, it experiences an extended free fall.

Cyclone
The Cyclone is the Philippines' largest water slide! It's a massive conical steel fiberglass structure 20 meters in diameter that can hold a four-person raft that drops from a six-story launch tube. As the raft swings on the funnel walls, riders experience near-vertical spins and wallops.

Buccaneer Bay
At nearly 5000 square meters, the Buccaneer Bay dual wave pool, one of the Philippines' largest, offers families a distinct area where waves can range from 0.50 to 1.0meter height, and a separate venue for the brave boogie boarders more powerful tsunami waves at 1 to 1.5meter height, which can be programmed for would-be surfers wanting to learn the basics.

Seven Seas Waterpark Ticket
The Philippines' largest pirate-themed waterpark awaits you with a world of fun and adventure! Swim in the largest dual wave pool in the country or ride one of the park's eight thrilling waterslides! Scream with delight as you ride adrenaline-pumping attractions like the Cyclone, Riptide, and Plank Drop. This swashbuckler's paradise is ideal for those looking for a day out of the sun.
Find Hotels Near Seven Seas Waterpark
IMPORTANT INFORMATION
Always keep an eye on children.
All park rules posted inside the waterpark must be followed.
Attractions in the waterpark have height and weight requirements for your safety.
Attractions may be suspended at any time without notice.
Outside food and beverages are not permitted.
Neither alcoholic beverages nor smoking is permitted.
Pets are not permitted.
Swimwear must be worn at all times. Some attractions will not be accessible to guests who have not dressed appropriately for swimming.
Lockers can be rented for your convenience.
Seven Seas Waterpark is a must-visit destination in the Philippines for anyone looking for a thrilling and enjoyable experience. There's something for everyone to enjoy with its diverse range of attractions, which includes wave pools, water slides, and other adventure activities. Check the entrance fee, operating hours, and rules and regulations before planning your visit to ensure a hassle-free and fun-filled visit. dd Seven Seas Waterpark to your bucket list and enjoy the fun and excitement it has to offer.
---
The Best Places to Visit Places in the Philippines
The Philippines is a beautiful country with a diverse range of breathtaking destinations. There are countless truly stunning locations to explore, ranging from picturesque coastlines to lush green jungles. We'll look at the best places to visit in the Philippines and highlight their distinctive features and attractions.
Explore the Best of Philippines: Must-See Tourist Destinations
The Philippines is a stunning cluster of islands brimming with breathtaking natural wonders and cultural treasures. With over 7,000 islands, the country offers a diverse range of destinations to explore, from bustling urban centers to tranquil shorelines, and historical landmarks to breathtaking terrains. The Philippines caters to every traveler's needs, whether it's seeking an adventurous escapade, unwinding on a serene beach, or delving into cultural experiences. This guide presents a curated list of must-see tourist destinations in the Philippines, each of which offers a distinct and charming experience. So, prepare to embark on an adventure to discover the best of the Philippines.
Intramuros is the ancient heart of Manila, a walled city that showcases the rich history and Spanish architecture of Old Manila. Built by the Spaniards as their political and military…

---
Discover the convenience of applying for your OFW Pass using the DMW Mobile App. Follow our comprehensive step-by-step guide for a seamless application process. Your journey to hassle-free documentation starts here.

---

Unravel the power of PHIVOLCS: A comprehensive guide exploring their role in monitoring volcanoes and earthquakes. Discover cutting-edge technologies used.

---

Unearth unbeatable deals and score the cheapest flights to the Philippines with expert tips and lesser-known strategies. Journey awaits!

---

Uncover the best travel deals in the Philippines now and embark on a journey through stunning destinations and hidden gems. Don't miss out!

---

Discover the beauty of Lake Holon – a hidden gem located in the Philippines. Learn about its history, culture, and conservation efforts.

---

Discover the top affordable beach resorts in Subic. Enjoy your budget-friendly beach getaway with these tips and recommendations. Read more now!

---

Discover the best travel agencies in the Philippines for a stress-free and unforgettable vacation. From big players to hidden gems, find your perfect match today!

---

Search for the best hotels using this comprehensive list of DOT-accredited hotels in Baguio.

---

This page contains links to the best Cebu Pacific Piso FarePromo. Cebu Pacific is one of Southeast Asia's leading airlines, serving more than 60 destinations across the region.

---

Looking for the best travel agencies in Manila? Our comprehensive list features only DOT-accredited agencies, ensuring you'll receive top-quality service and have a stress-free vacation. Let us guide you to the perfect agency for your needs and plan the trip of a lifetime to this vibrant city.

---

Experience the ultimate travel adventure with PAL's EPIC SALE! Discover unbeatable deals on luxurious escapes and exciting destinations, and elevate your travel experience to new heights.

---

Unlock your potential and unleash your entrepreneurial spirit with these 100 powerful business ideas to start in the Philippines this 2023. From online tutoring to personalized jewelry stores, fuel your passion and ignite your success with these uncommon and emotionally impactful business ventures. Discover your path to financial freedom and build your dream business today.

---

This page contains links to the most recent Cebu Pacific promotions for the years 2022-2023. Cebu Pacific is a leading airline in Southeast Asia, serving more than 60 destinations throughout the region. By providing high-quality, low-cost air travel, it has grown to become a major player in the aviation industry.

---

Learn about the departure schedules from PITX to Baguio and vice versa, and eveything you need to know about P2P, PITX and Solid North Transit.

---

Discover the hidden treasures of Baguio with our comprehensive guide to the complete list of DOT-accredited travel agencies in the city. Find the most reputable and trustworthy travel agencies in Baguio that offer exceptional services and unforgettable experiences for your next adventure.

---

Booking hotels via a mobile app is now preferred due to its convenience and well-organized structure. Many hotels and even smaller accommodations in the Philippines have partnered with popular hotel…

---

Find DOT Accredited Travel Agencies in Davao. Search by name, city, province, or region. the Purpose of DOT Accreditation The purpose of accreditation is to guarantee that the agency meets…

---
Uncover the charm of the Philippines with these irresistible offers
This list offers irresistible great deals that allow budget-conscious travelers to experience the beauty of the Philippines without breaking the bank. Discover the country's breathtaking attractions and vibrant culture and prepare to embark on an unforgettable trip to the Philippines with these low-cost options.
Discover mouthwatering deals! Enjoy Foodpanda Philippines' September 2023 discounts and promos. Savor the savings today!

---

Uncover tips and airlines for affordable flights to Boracay. Learn the best time to visit and snag cheap deals for your dream vacation.

---

Discover the full specifications and anticipated price of the Poco X5 Pro in the Philippines for 2023. Is it worth buying? Find out in our detailed article.

---

Did you know that you can book hotels through Airasia? It is Super Cheap! Find out more…

---

Find what makes you happy whenever and wherever you want, from close-by getaways to far-flung adventures with these Klook discount coupons.

---

---

In this blog post, we'll tell you how to get Manila Ocean Park tickets for free. Take advantage of Hotel H2O's Yuletide Getaway for a joyous urban staycation with free tickets at Manila Ocean Park!

---

Agoda is a global leader in the hotel booking industry with over two decades of experience. Customers can expect inexpensive costs and a variety of booking options.

---

Any tourist who decides to visit Cebu should be aware of the essential items and deals for a memorable trip.

---